The Most Bizarre Thing A Super Fan Did For Seventh Son Star Ben Barnes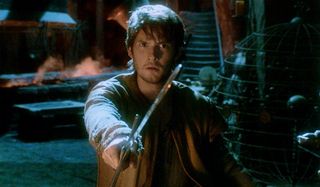 Fans will go to great lengths to prove their love for their obsessions, but celebrity and young-adult franchise fans might be the craziest of them all. Well, crazy might be too demeaning of a word. How about, overly enthusiastic? For Ben Barnes, the star of this week's fantasy film release Seventh Son, he knows this to be true from firsthand experience.
Barnes attracted a number of fans over the years, through his time on films like The Chronicles of Narnia, Dorian Gray and The Big Wedding, and even the HISTORY channel miniseries Sons of Liberty. When I first met Barnes, he told a story about how a girl he met at a screening event who was by far the most memorable. While he described her as "very lovely" and "gentle and normal," he said he found a photo she posted during a recent Facebook chat.
A little Internet snooping revealed the photo was attached to a Facebook Q&A thread on Entertainment Weekly's page. After scrolling through a few fan questions for the actor, we came across a post that read, "I got your face tattooed on me last month. If you had to have someone's portray linked on you, who would it be?" And then she showed the tattoo in the Facebook chat:
Barnes didn't answer the question, as he was taken aback. He responded with, "Is that true?!?!!!" before posting a cartoon of a panda pounding its head against an "OMG" sign. We're not quite sure what he meant by that, but it seems like an appropriate reaction.
Elsewhere, he said he encountered some highly critical fans of Seventh Son, even when the trailer was the only piece of released content. Some people, he notes, will review a film based on a trailer, which he calls insane.
Both fans and haters will finally get to see Seventh Son in theaters on Feb. 6. Directed by Sergei Bodrov and co-starring Jeff Bridges and Julianne Moore, it was originally supposed to hit theaters in 2014, but kept getting pushed back into 2015. The cast shot the film all the way back in 2013, and some of the cast, including Bridges and Barnes, even came out to San Diego Comic-Con that year to promote the film and show off some footage.
However, the extended delay, critical reviews and a dwindling promotion campaign have experts projecting only a $7-$10 million opening weekend. That's not a good thing, considering Seventh Son was made on a $95 million budget with extra expenses used to promote it.
Your Daily Blend of Entertainment News
Thank you for signing up to CinemaBlend. You will receive a verification email shortly.
There was a problem. Please refresh the page and try again.