Mrs. Doubtfire 2 Is Definitely Never Going To Happen, Thank God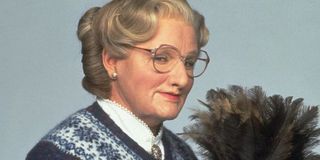 In news that will shock no one, but relieve all, director Chris Columbus confirmed beyond all doubt that Mrs. Doubtfire 2 will never happen now that Robin Williams has passed away. Columbus also revealed that he held discussions with the iconic comedian about reprising his role, a conversation that actually took place over the better part of a decade.
Speaking to Entertainment Weekly, via Time, Columbus confirmed that Mrs. Doubtfire 2 will never, ever happen, because not only to does the studio not want to go near it now that Robin Williams is dead, but neither do the filmmaker or the audience. Columbus emphatically declared:
But how close did Robin Williams and Chris Columbus actually come to moving ahead with Mrs. Doubtfire 2? Well, it turns out, really, really close. Columbus, who made his name directing Home Alone, Harry Potter and the Sorcerer's Stone, and most recently, Pixels, as well as Mrs Doubtfire, admitted that he talked to Williams constantly about returning to the character.
The pair originally started chatting about the sequel in the early 2000s. However, they could never agree on a concept, and were only prepared to move forward with a follow-up to the much-loved comedy if it could match the original. But their attention was grabbed by a "really interesting idea," which even convinced the duo to "develop a script."
That was just over a year ago. And, unfortunately, Robin Williams took his own life, on August 11, 2014, shortly after. Columbus even admitted:
It's obviously still an incredibly sensitive and emotional topic for Columbus. When asked to provide a hint of the story that galvanised his and Robin Williams' interest in Mrs. Doubtfire again, the filmmaker remarked that it is still too delicate and painful to talk about at this point.
In a career stacked with comedic and dramatic highlights, Mrs. Doubtfire is arguably Robin Williams' most iconic role. That's because it perfectly showcases his wide array of talents. Not only does he handle the emotional and poignant moments of the film with a subtle grace that most dramatic actors could only dream of acquiring, but he's also relentlessly funny and able to weave in and out of his dual characters seamlessly, not just without disrupting the rhythm of the film but by adding laughs, too.
Want to remember how good he was? Then take a gander below.
Sadly, Robin Williams died on August 11, 2014. Williams truly was a unqiue talent, the likes of which we'll never see again. And while his passing was criminally too soon, he left us with a lifetimes worth of joyous memories.
Your Daily Blend of Entertainment News
Thank you for signing up to CinemaBlend. You will receive a verification email shortly.
There was a problem. Please refresh the page and try again.