This Music Teacher's Tribute To Star Wars Is The Greatest Holiday Lights Show We've Seen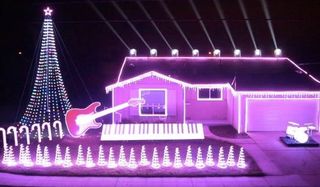 We've now reached the stage where there are so many Star Wars homages out there that it's almost impossible to be impressed by anything new that tips its hat to George Lucas' beloved series. However a music teacher from San Francisco has managed to do just that with his very own Star Wars music Christmas lights show. It simply needs to be seen to be believed.
I know, it really is quite remarkable, isn't it? And all the credit for this rather wonderful nod to Star Wars belongs to Tom BetGeorge. When he's not busy trying to blind his neighbors with the power of Christmas lights, Tom BetGeorge is a music teacher at the Conservatory of Vocal and Instrumental Arts in Oakland and the Centerville Presbyterian Church in Fremont.
He also clearly really, really likes Christmas too. So much so that he choreographed 100,000 lights to seamlessly move to John Williams' score from the Star Wars cannon. People across the world wide web instantly took interest in his work, and the above video has now been watched just under 2 million times in four days. Speaking to Yahoo News, Tom BetGeorge admitted that the popularity of his work was a little overwhelming.
Some of the numbers that Tom BetGeorge used to populate his celebration of both Christmas and Star Wars including "The Imperial March" (otherwise known as Darth Vader's ominous theme), the "Cantina Band," and the iconic "Main Title" to the film. However, Tom BetGeorge admitted that his favorite part of the montage was the Duel of the Fates, as the "choral parts of the song are just so epic-sounding."
But how long did it actually take Tom BetGeorge to create this epic piece? Well he insists that he spent about 1,000 hours working on the light show in total. This included creating his own decorations, which Tom BetGeorge admitted took up most of his time. Not only did he have to design and build various candy canes and a drum kit, but he also slaved over a 19-foot long piano and 17-foot long guitar too. After building each of these pieces, Tom BetGeorge then spent the next month setting it all up at the front of his house. He even needed to use two miles of cable to make everything illuminate.
In the end, all you can do is heap praise on Tom BetGeorge's Star Wars Christmas creation. Especially since it is umpteen times better than 1978's Star Wars Holiday Special. You just wouldn't want to live opposite him.