Pitch Perfect 3 Still High On Elizabeth Banks' To-Do List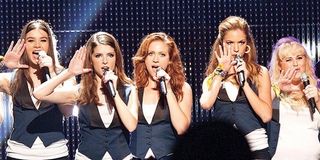 Made for relatively little money, at least by Hollywood standards, the Pitch Perfect movies are two of the more profitable movies in recent memory. With such financial success, Pitch Perfect 3 is essentially a foregone conclusion—involved parties were already talking about it before the second one even opened—and Elizabeth Banks says it's high on her to-do list.
The actress and producer, who made her directorial debut on Pitch Perfect 2, sat down with Access Hollywood to talk about her role in the upcoming Brian Wilson biopic Love & Mercy. The subject of Pitch Perfect 3 came up, and she said:
While it sounds like it may be a ways off, ideas are percolating. And considering the second movie has made $160 million at the domestic box office, and $250 worldwide, you can bet that Universal would like to get the ball rolling sooner rather than later.
Back in 2012, the first film, about a plucky group of female collegiate a cappella singers battling the odds to achieve aca-glory, became a surprise hit. Building on word of mouth, it managed to amass a $115 million worldwide take against a scant $17 million budget, all with relatively unknown and unbankable actors. Released last month, the sequel was not only an even bigger success, but with a $70 million opening weekend haul, decimated the competition, which included George Miller's long gestating Mad Max: Fury Road, one of the best reviewed studio movies of the year so far. And all of this was on an estimate $29 million budget. Again, hugely profitable.
Rebel Wilson, one of the breakout stars of the unlikely franchise, has already gone on record as saying that she's on board for another PP movie, reprising her role as the diva from down under, Fat Amy. Lead Anna Kendrick, however, is not expected to be back for another round of Barden Bella action, especially as she was reportedly not super excited for the second film.
It will be interesting to see how Pitch Perfect 3 is structured. Most of the core characters graduated near the end of the sequel, and it's hard to be a collegiate a cappella group when you're not in college. But they did add a new member, Emily (Hailee Steinfeld), a freshman at the university, and it seems likely that she'll take over the reins in the next movie, with one or more of the previous Bellas coming back in an advisory capacity. At least that seems like the most probable path, we'll have to wait and see what they come up with.
Pitch Perfect 2 is in theaters now, and we'll be keeping our eyes out for any developments on Pitch Perfect 3.
Your Daily Blend of Entertainment News