Rock The Kasbah Trailer Unleashes Bill Murray On Afghanistan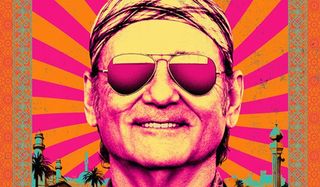 One would think that the basic premise of taking Bill Murray and setting him loose in the Middle East for his signature brand of hijinks would be all the setup one would need for comedy gold. However, the comedic icon's latest film, Rock the Kasbah, takes the comedic absurdity to Afghan proportions, prompting a troop surge… of laughter! Watch as Murray handles himself in hostile territory, showcasing a terrifically tone-deaf form in the trailer below!
This official debut trailer for Rock the Kasbah might have been trying to fool you in its opening moments. From the initial auditory classic rock bomb of David Bowie's 1974 hit, "Rebel, Rebel," paired with the kitschy, shaggy motifs and a sudden appearance of Bill Murray, one would have thought that we just caught a glimpse of some secret new Wes Anderson project. However, we actually have Barry Levinson, the comedic-drama maestro behind Diner, Good Morning, Vietnam and Rain Man to attribute this scenery. Immediately, it's made clear that we're in for hilarity that's garnished slightly with drama addressing the harsher realities of the world.
Murray plays Richie Lanz, a rock tour manager whose aged visage is probably meant to be poetically paralleled with the current state of his focused music genre. He's got an elegant young ingénue of a client in tow played by Zooey Deschanel, with whom he plans to fly to Afghanistan for a USO show performance. However, in what could either be a case of extreme cold feet or just plain callousness, Richie learns from an irate rifle-wielding Bruce Willis that his songstress has bailed on him, even stealing passport and all his money.
Now left abandoned in some seriously bad neighborhoods, partying while dodging the occasional machine gun fire, Richie is desperately trying to whip up a miracle of some kind to get back home. However, in desperately trying to discern the reasons fate bestowed him with this absurd series of misfortunes, he is hit by a bit of serendipity in the form a young Afghan girl (Leem Lubany) with an amazing voice. Soon, his mission changes trajectory as he attempts to get his new client to Kabul to appear on the American Idol-like "Afghan Star" to be discovered.
Based on the array of zaniness and classic Murray-isms that we're seeing in this debut trailer, Rock the Kasbah appears to be channeling all the right angles. The film seems to come across as a creative amalgam of a road trip movie that partially replicates the lonely tones of Murray's Lost in Translation role, while capping things off with musical hilarity as he brilliantly butcher's Deep Purple's "Smoke on the Water" in front of some befuddled Afghan villagers. If I didn't know any better, I would have guessed that this was a belated attempt to make a feature film starring Murray's classic SNL lounge singer, Nick Ocean.
The film features an impressive supporting cast. Besides the aforementioned Zooey Deschanel, Bruce Willis and a rising new talent in the lovely Leem Lubany, there is also Kate Hudson, Danny McBride and Taylor Kinney. Rock the Kasbah gets ready to not give a crap if "shareef don't like it" when it hits theaters with thunderous hilarity on October 23rd.
Your Daily Blend of Entertainment News