Scout Taylor-Compton Will Only Do Halloween 3D If The Script Is Top Notch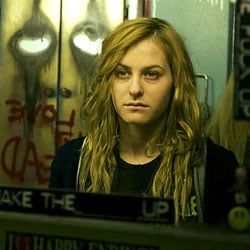 Right after Rob Zombie's Halloween II hit theaters in August, Bob Weinstein announced that Halloween 3D was in development and that Zombie would not be involved. Naturally, that news was followed by word of Zombie's replacement, My Bloody Valentine 3D director, Patrick Lussier. The power of the pen went to Lussier's My Bloody Valentine 3D partner, Todd Farmer. Then, Weinstein decided to halt pre-production because he felt the filmmaking process was being rushed. Just about two weeks ago, Farmer posted a blog about the rise and fall of the project. Now that all of the facts are out there, does anyone even want another Halloween movie anyway? Scout Taylor-Compton doesn't. But, wait, she kind of does.
The young actress who portrayed Laurie Strode in both of Zombie's films, commented on the status of H3D during a video chat. She explained that she was asked to return for the third film, but between the lack of a director and the feeling that the super fast tracked pace wouldn't allow for a quality film, she opted to decline. Then she whines about finding out the Weinstein Company decided to take their time on the project and rambles on about how the series should die, but if the script meets her standards, she'd like to continue.
Nothing against Taylor-Compton, I actually think she has some acting chops, but who is she to express concern over a shoddy script? Did she not read the scripts for the first two films? Did she not see the first two films? It's great that she wants to make a decent film, but take your time and energy and use them somewhere else. Halloween II was a disaster. The first film isn't terrible, but Zombie managed to convolute the plot to a point of no return. There is no way Farmer can find some promising direction to pick up where Zombie left off. This franchise must die.
What's the status of the film anyway? According to Shock Till You Drop, Dimension films is taking pitches from new writers.
Your Daily Blend of Entertainment News
Staff Writer for CinemaBlend.