See Wonder Woman In Action In Batman V Superman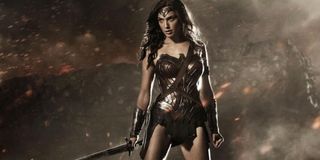 Big reveals today at the Warner Bros. panel during San Diego Comic-Con including the drop of one highly-anticipated trailer. And in the latest trailer for Batman v Superman: Dawn of Justice we have finally gotten our first good look at Wonder Woman in action—both in and out of her suit.
The trailer was incredibly revealing, and we finally have some clarity on what to expect as the plot of the film, but by far the coolest footage given in the three-minute and 30 second trailer was Wonder Woman's big bang. The scene goes from a dolled up Gal Gadot, rocking a sexy red number, to a badass fight scene with a Wonder Woman power surge.
We've seen glimpses of both sides of the coin, the outfitted Wonder Woman, and the high class Diana Prince. Just last week, Entertainment Weekly revealed a still featuring Ben Affleck's Bruce Wayne and Gadot's Diana Prince looking awfully close at one of those Bruce Wayne black tie events he so enjoys. But why this encounter occurs, and its implications are still up in the air. Either way, the latest footage has proved that Gadot's character will certainly have a presence.
We're still waiting on concrete answers to what Wonder Woman's presence means to the story, though. From the previous photos we've seen with her looking close and comfortable with Bruce, it may be that they will be in this fight together against the Man of Steel. The new trailer was sure to cut her sequences in so not to give away any of the company she keeps, but show her in the fight during solo moments. But if we can take anything from this big blow, it's that she's definitely fighting someone with serious strength.
The full Batman v Superman trailer from Comic-Con (which you can catch here) helps answer a whole slew of previous questions, like the Caped Crusader's motivations in all this mess, and where exactly Lex Luthor fits in. While we are still waiting on more details for our heroine, at least we've gotten to see how badass she really looks in action. You can catch Wonder Woman in her Batman v Superman: Dawn of Justice debut on March 25, 2016, followed by a solo movie slated for the summer of 2017.
Your Daily Blend of Entertainment News