Stan Lee Will Play A Bigger Role In Mallrats 2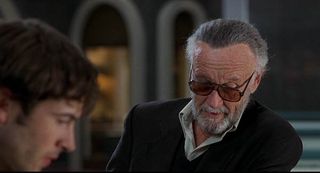 Could Stan Lee get any cooler? Director Kevin Smith has confirmed that the legendary comic book writer will in fact be returning in the sequel to the cult movie Mallrats, but it won't be a bit part this time. Instead the director has promised that the comic book legend will play a key role in the upcoming comedy sequel.
According to Comicbook.com, Smith was performing at the Zanies Comedy Club in Nashville, Tennessee when he spilled the beans about Stan Lee's expanded role in Mallrats 2. The Chasing Amy director went on to give details of the account that will undoubtedly lead to movie history…at least where Mallrats fans are concerned. During the filming of an Audi commercial for the upcoming Avengers: Age of Ultron movie, Smith told Lee that he was writing the sequel to the 1995 Mallrats film - to which the incredibly humble and gracious Lee responded: "Oh my god, finally, now I'll get more than two lines!" It seems the beloved Marvel alum is also a fan of the cult favorite, insisting on having more involvement in the upcoming film.
Smith went on to say that the former President and Chairmen of Marvel Comics will not only make an appearance but will play a "huge part" in the upcoming film. Unlike his other cameos in superhero films, Lee's role in Mallrats 2 will much bigger, with the co-creator of Spider-Man being said to be prominent throughout the film from the beginning all the way to the third act. This seems to be just fine with Mr. Lee. After hearing of Smith's plans to feature him more in the Mallrats sequel, Lee replied "Thank god, I'm only 92. What were you waiting for?" Apparently, he wasn't the only waiting for the Clerks III director to make a Mallrats 2.
Remember, in the first Mallrats movie Stan Lee's role was small, but it did consist of more lines than the glorified walk-on appearances he's had in superheroes movies as of late. He gave Brody (Jason Lee) life-altering relationship advice about Rene (Shannen Doherty) through the use of none other than, you guessed it, comic book references. Hopefully Smith writes something equally as memorable for Stan Lee in Mallrats 2.
Filming for Mallrats 2 is set to begin this summer, with the production pushed up before Clerks III so that Kevin Smith can execute a third act stunt that features the actual destruction of a mall. Thus far, many of the original cast members, including Smith's longtime co-collaborator Jason Mewes, Shannen Doherty, Joey Lauren Adams and Jason Lee, have all agreed to return in the highly anticipated sequel.
Your Daily Blend of Entertainment News
Your Daily Blend of Entertainment News
Thank you for signing up to CinemaBlend. You will receive a verification email shortly.
There was a problem. Please refresh the page and try again.