Star Wars: The Force Awakens Offering Exclusive Poster To Select Fans, Get The Details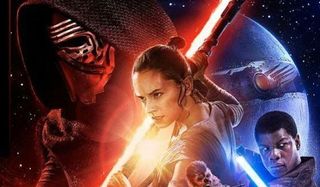 You might have noticed, but there's a brand new Star Wars film coming out in just a couple of months. You've probably overheard every single person with even a passing interest in cinema constantly talking about it. The fact that the third trailer for Star Wars: The Force Awakens premiered last night means that the promotional push for the blockbuster is now truly underway, which is why the good folks over at AMC have revealed that they're offering the chance for fans to get theirs hands on a series of exclusive new posters.
But how can you get your very own posters to mount on your wall at home? Well, it's relatively simple actually. All you need to do is go and see Star Wars: The Force Awakens in IMAX 3D on a Sunday at AMC. Their website explains:
We all probably know at least half a dozen deranged (I mean that only as a positive) Star Wars nuts who will be racing to AMC cinemas each and every Sunday to get their hands on these limited edition posters.
And, if it's anything like the recent new poster for Star Wars: The Force Awakens, which caused quite a hubbub when it was released over the weekend due to the fact that it didn't actually feature Luke Skywalker, then it will certainly be worth possessing. In fact, let's take a moment to marvel over that poster in all of its glory again below.
AMC has kicked their Star Wars promotional campaign into action ever since the latest trailer for The Force Awakens was released. They're heavily promoting their Star Wars Marathon event, which will start approximately 24 hours before The Force Awakens is released and allow die-hard fans to watch all seven movies in close proximity, concluding with the latest edition.
While it's obviously been a rather heavy 24 hours for Star Wars news, this is just going to be the tip of the iceberg. Because you can expect new information regarding Star Wars: The Force Awakens to be released by the bucket load all the way up until it is finally in cinemas on December 18, 2015.
Your Daily Blend of Entertainment News
Thank you for signing up to CinemaBlend. You will receive a verification email shortly.
There was a problem. Please refresh the page and try again.