Star Wars Planning A Massive Empire Strikes Back Screening, Get The Details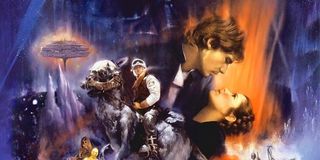 It appears that some Star Wars fans in London are in for an experience with one of the series' best films. The organization known as Secret Cinema will be channeling their repertory skills to put on a series of screenings of Star Wars Episode V: The Empire Strikes Back that will use the showing of the film as the centerpiece to a completely immersive celebration of the film that infuses cinema with the ephemeral experience of a massive live role playing community.
The organization, which prides itself in the secrecy of its designated screening events, proliferated the quasi-secret announcement of their Empire plans through their social media. However, the exact location of the screenings are given out in a comically clandestine method, as registrants have been told to "look out for a secret code on forgotten buildings." As the company's invite to the "secret" Empire screenings reads,
The call to cinematic arms is not as cryptic as it might seem to the uninitiated. The company's very branding centers on a sliver of mystique appropriate to their motto, "Remember. Tell No One." And yet, a lot of people do, in fact, "tell." Big time. The UK-based company, which has been putting together these grand festive screening experiences since 2007, made headlines last year with their hugely ambitious efforts to screen the time-bending crowd-pleaser, Back to the Future, which sold a whopping 65,000 tickets.
The BTTF event in London's Queen Elizabeth Olympic Park would transform a portion of the public space into a virtual replica of the film's fictional town of Hill Valley, CA. For all intents and purposes, Secret Cinema turned that bit of land into a REAL town with about 20 actual shops and intricately-crafted sites that took the idea of a simple screening of a 30 year-old film and transformed it into a true cultural destination filled with appropriately-costumed patrons. In fact, despite the overall project being bogged down with cancellations, the venture was so successful, that they announced plans to bring their Back to the Future experience to the United States sometime this year with dates in Los Angeles.
Now, with several dates set for their screenings of The Empire Strikes Back set in London from June 4 to August 2, we could potentially be witnessing the most impressive interactive tribute to a film, ever. Their call implied that they were seeking "Rebels" to head to "a secret city." Based on their Back to the Future plans, this would seemingly be outdoors, implying that we could be looking at a snowy, Hoth-themed event.
While it's difficult to determine how their thematic transformational process would manifest without setting the bar impossibly high, one would think that the possibility of reproductions of a Rebel Base or maybe a few approaching AT-AT walkers might be in the works. (Assuming that swampy Dagobah is too bleak and Cloud City is well…in the clouds.) Stay tuned for more details on these Empire Strikes Back screenings as we hear them.