Watch Clark Gregg Sing A Made-Up Theme Song For The Avengers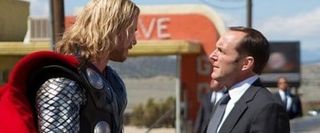 Coming right after a very slow and very dull panel for The Walking Dead, yesterday's New York Comic Con panel for The Avengers felt especially bright and energetic, with a dozen female audience members stepping up to the mic to compliment Tom Hiddleston on his body, Mark Ruffalo coining the term "Ruffalize" to describe his take on The Hulk, and Clark Gregg, a.k.a. Agent Coulson, spilling the beans on one night out in Albuquerque when Scarlett Johansson broke it down on the dance floor and stunned everyone else in the bar.
For the nitty gritty details about the panel, including a description of the really impressive new footage they showed off, you can read my full liveblog. But for an example of that energy I'm talking about, check out this video, in which Clark Gregg is persuaded to sing the theme song for The Avengers that he made up backstage. It includes the word "Hulky." You've really gotta see it.
There was a lot of other silliness where that came from, including Tom Hiddleston's pitch perfect imitation of Chris Hemsworth's accent and Chris Evans complaining about his hat hair. I'll have video of the full Q&A portion of the panel posted later today. Meanwhile, just watch Gregg singing over and over again on a loop-- you know you want to.
Staff Writer at CinemaBlend
Your Daily Blend of Entertainment News
Thank you for signing up to CinemaBlend. You will receive a verification email shortly.
There was a problem. Please refresh the page and try again.