Anna Kendrick Playing A Wild Child In Zac Efron's Wedding Comedy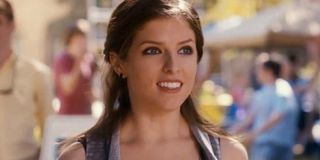 There's no denying the fact that Anna Kendrick is one of the most charming actresses currently working in Hollywood. Meanwhile, Zac Efron has done a pretty stellar job of proving that he is more than a pretty face, and has developed into a rugged, handsome-but-sensitive screen presence. Agree? Good. Then the confirmed coagulation of these two thespians in the upcoming comedy Mike And Dave Need Wedding Dates is something that we should all be pretty excited about.
The Hollywood Reporter has confirmed that has just signed on to take the female lead in Fox's upcoming comedy. Zac Efron and Adam DeVine are starring as the eponymous brothers, who are so desperate for dates for a wedding that they decided to place an online ad searching for one. But the boys, who have been described as "immature" and "hard-partying," more than meet their matches in the shape of a pair of ladies who are just as childish and reckless as them. Is it just me or is that just Must Love Dogs meets The Wedding Crashers? Either way, I'm down.
Anna Kendrick's character has been described as "a wild child with a romantic heart," and from the trade report description, it sounds as though she will be the one that winds up being paired up with Efron's character. You can practically already smell the on-screen chemistry that the perpetually adorable couple will share. This character's personality should also be a nice change of pace for the actress, as she has become largely famous for playing more controlled personalities, as seen in movies like Up In The Air and Scott Pilgrim vs. The World.
Kendrick is also getting a very talented co-star in Zac Efron, whose performances in films like 17 Again, Me and Orson Welles, That Awkward Moment and Neighbors have seen him not only emanate an innate likability but he's also showcase a potent timing that suggests he has already developed into a sturdy, comedic leading man. And even though Anna Kendrick's CV is much more eclectic than Efron's (with a few more weighty roles and even an Oscar nomination in there to boot), she has also proved that she can bring a lightness and humor to her roles at the same time as being nuanced and sincere.
Meanwhile the decision to give a leading part to Adam DeVine - who has managed to steal pretty much every scene he's ever appeared in - is yet more proof that Mike And Dave Need Wedding Dates is worthy of your attention. DeVine's crude yet loveable antics have always set him apart, and it will be intriguing to see if he can maintain this for an entire movie.
Directed by first-timer Jake Szymanski (a veteran of Funny Or Die and Saturday Night Live) and based on a script by Neighbors' Andrew J. Cohen and Brendan O'Brien, the film sounds like a comedic certainty, with the combined presence of Kendrick, Efron and DeVine meaning that it should be immensely watchable.
Your Daily Blend of Entertainment News
Your Daily Blend of Entertainment News
Thank you for signing up to CinemaBlend. You will receive a verification email shortly.
There was a problem. Please refresh the page and try again.