What Darth Vader's Melted Star Wars Helmet Actually Looks Like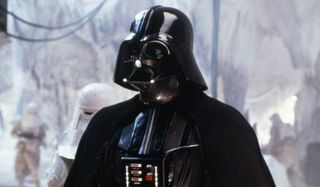 One of the most iconic images from Star War: The Force Awakens was that of Darth Vader's melted helmet. It was a perfect link between the new trilogy and the original, as Adam Driver's evil Kylo Ren looked down upon the decrepit dome and insisted that he'd do the legendary villain justice. But, considering the ending to Return Of The Jedi, Darth Vader's helmet in Force Awakens actually looked rather well preserved. And now David Prowse, who played Vader in the original trilogy, has uploaded an image of the actual helmet and mask post Return Of The Jedi to Facebook, which shows just how badly damaged it was in Anakin's fiery funeral scene.
Obviously, even though it would have been cool as funk if J.J. Abrams had used the above helmet in The Force Awakens, it wouldn't have really had the same impact. Instead, it would have been kind of gross. That's why J.J. Abrams and his Star Wars: The Force Awakens crew decided to make Darth Vader's helmet still recognizable, and only made it a little banged up.
The thing is, I think we can all admit that the above helmet doesn't look like it has been anywhere near to a fire. At all. Which raises the question, how many helmets did Darth Vader have? Maybe, Kylo Ren stumbled upon the above bashed Darth Vader helmet in a cupboard and then began to worship it. I mean, just take a look at the funeral pyre scene from Return Of The Jedi once again.
There is no way that the helmet used in The Force Awakens was somehow salvaged from this bonfire, and then, 30 years later, miraculously ended up in the hands of Kylo Ren. Unless Andy Serkis' Emperor Snoke actually has a connection to Darth Vader, which is something that has already been theorized, and he then managed to pass on a variety of memorabilia to Kylo Ren. Obviously, at the moment, it's all speculation. But we'll probably learn more about how Kylo Ren became so entranced by Darth Vader (except for the obvious reason) when Star Wars: Episode VIII is released on December 15, 2017.
Your Daily Blend of Entertainment News
Thank you for signing up to CinemaBlend. You will receive a verification email shortly.
There was a problem. Please refresh the page and try again.