Where And When The Wonder Woman Movie Will Probably Take Place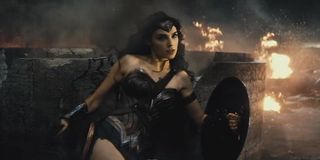 One of the most frequently asked questions about Wonder Woman is when it will take place. While most (if not all) of the DC Extended Universe entries are set in the present day, the Amazon's solo movie has been rumored several times to be a period piece. Last year it was said the film might be set in the 1920s, while last month's rumor was that the first half of the film would take place during World War I and then jump to the present day. Now new information has come out that Wonder Woman may not just be set in three distinctive time periods, but that it will also feature several unique settings.
Den of Geek has heard that the first setting in Wonder Woman will be Themyscira, home of the Amazons, though it wasn't revealed what era we will see the island in. The second part of the film will take place in 1916 during World War I, and then the final act will jump to the present day and tie into the events of Justice League Part One, which comes out five months after Wonder Woman.
The article also acknowledged that each act may move to a different time period, so even though a year wasn't assigned to Themyscira, that doesn't mean we'll necessarily see it in 1916 or the modern day. Given how heavily connected Wonder Woman is to Greek mythology, perhaps this will be Themyscira during ancient times, or, at the very least, pre-20th century. Of course, with all this time hopping, the article also acknowledges that it's possible Diana's outfit will change "to reflect each setting."
While Warner Bros. has yet to announce whether Wonder Woman will be partly or completely a period piece, it would make sense for the heroine. It was said back in May that Diana will be hundreds of years old when we first meet her in the DCEU, so that would explain why she's looked the same after so many decades/centuries. Not only does this line up with various iterations of the Amazon princess' background (though in the New 52 she's only in her early-mid 20s), but it also doesn't restrict Gal Gadot to playing the character in just one era.
This film also wouldn't be the first live action Wonder Woman adventure to make a jump through time. Fans of the 1970s Wonder Woman TV series will also remember that the first season saw Lynda Carter's Diana fighting in World War II, while the second and third seasons took place in the 1970s, i.e. the then-present day. Regardless, even if this time period information is confirmed, there are still plenty of mysteries left about the film's plot, including who the main villain(s) will end up being.
Wonder Woman will hit theaters on June 23, 2017, but you can see the Amazon warrior make her DCEU debut next year in Batman v Superman: Dawn of Justice.
Connoisseur of Marvel, DC, Star Wars, John Wick, MonsterVerse and Doctor Who lore. He's aware he looks like Harry Potter and Clark Kent.
Your Daily Blend of Entertainment News
Thank you for signing up to CinemaBlend. You will receive a verification email shortly.
There was a problem. Please refresh the page and try again.