Who Nathan Fillion Might Play In Guardians Of The Galaxy Vol. 2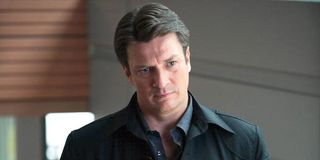 Nathan Fillion is best known for playing Malcolm Reynolds in Firefly and Richard Castle in ABC's Castle, but he's also built quite the superhero project resume as well. Most of this consists of DC Comics-related work, such as voicing Vigilante in Justice League Unlimited and Green Lantern in several animated movies, but he also voiced an alien inmate in Guardians of the Galaxy who threatened Peter Quill. Now it's suggested that Fillion is returning to the cosmic side of the Marvel Cinematic Universe for Guardians of the Galaxy Vol. 2, only we probably won't see him in person.
Photos have popped up online at a theater in Cartersville, Georgia that show Nathan Fillion's face on several movie posters, including one for a Tony Stark movie that's designed to make it look like the MCU's version of Steve Jobs. You can't tell who Fillion's actor character is supposed to be just looking at the posters, but Comicbook.com is reporting that the nearby theater marquee says that the theater is hosting a Simon Williams film festival. If that name doesn't sound familiar, Simon is also known as Wonder Man, a member of various Avengers teams.
In the comics, Simon Williams started out as one of Tony Stark's business competitors, but he was arrested when it was discovered he was embezzling money from his own company. He was soon bailed out by Zemo and the Masters of Evil in exchange for them turning him into a super being so he could fight the Avengers, to which he agreed. However, he soon realized he was on the wrong side, and after temporarily going into suspended animation, he reawakened and became a superhero, though there have been a few times when he's fallen back into the life of villainy. Simon has also been an actor, so seeing him as a movie star in the MCU isn't unprecedented. However, these posters make it clear we shouldn't expect Fillion's iteration of the character to go down the superhero path, let alone actually appear, at least where Guardians of the Galaxy Vol. 2 is concerned.
While the prospect of seeing a Nathan Fillion movie poster cameo is interesting, we're doubtful this has anything to do with Guardians of the Galaxy Vol. 2. There's hasn't been any indication there will any Earth scenes in the sequel, and even if there were, why would the main protagonists be near a movie theater? It's possible their ship landed near the town where this Simon Williams film festival is happening, but at the moment, this doesn't make much sense going off the information we have so far.
Could this be for another Marvel movie? Maybe, but Guardians of the Galaxy Vol. 2 is the only Marvel movie currently in principal photography. Assuming these photos are legitimate, this could be a scene being shot early for Spider-Man: Homecoming, which is also filming in Georgia during the summer. After all, Tony Stark is one of the most famous people in the world, so it stands to reason a movie would be made about him, and we also know that Robert Downey Jr is appearing in the movie. Imagine him making a snide comment about Fillion's Simon Williams playing him while walking around with Peter Parker.
Whether these Simon Williams movie posters truly show up or not, moviegoers can look forward to Guardians of the Galaxy Vol. 2 hitting theaters on May 5.
Connoisseur of Marvel, DC, Star Wars, John Wick, MonsterVerse and Doctor Who lore. He's aware he looks like Harry Potter and Clark Kent.
Your Daily Blend of Entertainment News
Thank you for signing up to CinemaBlend. You will receive a verification email shortly.
There was a problem. Please refresh the page and try again.