The Honest Reason Hugh Jackman Hasn't Started Shooting Wolverine 3 Yet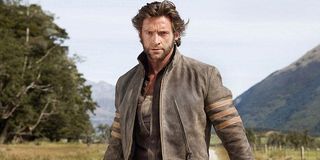 After 16 years of playing Wolverine in the X-Men movies, Hugh Jackman will soon unsheathe his claws for the final time. Last year, Jackman announced that his last time playing the gruff, cigar smoking mutant will be in the still-untitled Wolverine 3. Since then, we've been waiting with bated breath about what's in store for Jackman's Logan on his final adventure, but there hasn't been a lot of news as of late. Although there's a tentative release date set for his final Wolverine adventure, Jackman still isn't ready to begin shooting Wolverine 3 due to the story not being quite polished enough.
When asked when Wolverine 3 is set to be begin filming, Hugh Jackman echoed his previous comments from four months ago and told Collider that there's still some work to be done on the script before it meets his approval and they can move forward. He said:
Hugh Jackman also mentioned that the script is the closest it's ever been to being finished, so if all goes well, it will be finalized soon. By the time Wolverine 3 comes out, Jackman will have played the mutant in seven movies, and that's not including a possible appearance in X-Men: Apocalypse. So it's understandable that the actor wants it to be a memorable swan song. After over a decade of slicing up enemies and saving the world several times over, things can't end with just one of his muffled snarls. He needs to go out with a bang…or in this case, an especially loud 'snikt!'
With details light on what to expect from Wolverine 3, all we know for certain is it will take place in a time not seen in the previous movies, and Wolverine will reunite with Patrick Stewart's Charles Xavier. Hugh Jackman alluded last year at San Diego Comic-Con that it will be based on the alternate future tale Old Man Logan, but that has yet to be confirmed. Last summer, Jackman went on social media to ask fans what they would like to see in Wolverine 3. Popular answers included Wolverine's berserker rage, where he loses himself in an uncontrollable animalistic frenzy, and the return of his arc-nemesis Sabretooth, last seen played by Liev Schreiber in 2009's X-Men Origins: Wolverine. Whether any of these suggestions will be implemented remains to be seen, though I would certainly want to see Logan and Victor have a final showdown.
Wolverine 3 is currently scheduled to hit theaters on March 3, 2017, so if Fox wants to make that release, Jackman and the creative team will need to have that script finished in the next couple months to make that release date. Otherwise, a delay will be forthcoming!
Your Daily Blend of Entertainment News
Connoisseur of Marvel, DC, Star Wars, John Wick, MonsterVerse and Doctor Who lore. He's aware he looks like Harry Potter and Clark Kent.