You Won't Recognize Woody Harrelson As Lyndon B. Johnson In This New Still From LBJ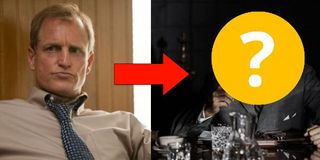 Woody Harrelson has played a wide array of badasses in his time as an actor, such as a Bill Murray-obsessed badass in Zombieland (which will hopefully get a sequel!), an alcoholic but wise badass in The Hunger Games, a magical con artist badass in Now You See Me, and a by-the-law badass in True Detective. All of these roles have led up to him portraying the formidable 36th President of the United States, Lyndon B. Johnson, in the upcoming biopic LBJ. Check out his remarkable transformation in the photo below...
Now, in all of those roles I've listed, Harrelson has looked more or less recognizable. Those wide, blue eyes and that toothy grin have always been there in his career, but you won't be seeing them in this new role. Harrelson's transformation into LBJ is pretty shocking. Maybe even Oscar-worthy. The Entertainment Weekly exclusive first photo of Harrelson on set barely resembles the actor at all!
In the above photo, we see a completely new side of Woody Harrelson. Gone are the days of that sprightly miscreant that always seemed to sneak into his roles.
As President Johnson, Harrelson conveys a formidable and officious presence. The conservative wardrobe of a dark suit and large glasses help, but what really transforms him is the extensive facial makeup that distorts the actor's face with wrinkles and jowls. Harrelson has done political drama before in HBO's Game Change, but this looks to be a much darker film.
The film LBJ is being directed by Rob Reiner, and will likely be released in 2016. It will chronicle Johnson's rise to political power, beginning as a Senator in 1959 and culminating in his presidency, when he took over power following John F. Kennedy's assassination.
Along with Harrelson, the biopic will also star Jennifer Jason Leigh as Lady Bird Johnson, Jeffrey Donovan as President John F. Kennedy, Kim Allen as Jacqueline Kennedy, Richard Jenkins as Senator Richard Russell, and Bill Pullman as Senator Ralph Yarborough.
Apparently, LBJ is the "it" president in pop culture recently. The 36th President was recently portrayed by Tom Wilkinson in Selma and by Bryan Cranston in the Broadway play All the Way, which is becoming an HBO series.
We will have to wait to see how Harrelson portrays Lyndon B. Johnson, but if this photo is any indication, it's going to be something completely different than we have come to expect from him.
Your Daily Blend of Entertainment News
Thank you for signing up to CinemaBlend. You will receive a verification email shortly.
There was a problem. Please refresh the page and try again.