11 Great Movies To Watch Before Netflix Gets Rid Of Them In July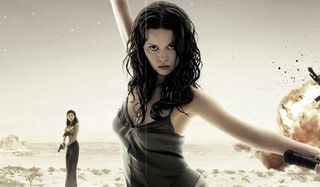 Netflix is getting some fantastic additions to its streaming service next month, including titles like Big Trouble In Little China, Beverly Hills Cop, Lethal Weapon, and the entire Back To The Future trilogy -- but there is a downside. With the news of new movies arriving means that we also have news of movies leaving, and in July 2016 there are a lot of fantastic titles disappearing.
There is a great pack of movies that are going to be leaving Netflix in the month of July, and with the 1st coming up in a little over a week, we recommend you start watching these titles as soon as you possibly can!
2001: A Space Odyssey
Stanley Kubrick is without question one of the greatest artists that the film medium has ever seen, bringing his variety of genius to a wide number of genres during his career. His work in science-fiction in particular represents the extent of his brilliance, and it's all on display 2001: A Space Odyssey. It's certainly not his most straight-forward or digestible film, but it is a cinematic wonder that features epic and stunning visuals that are mind-boggling when you consider the limitations of technology in 1968. It's a movie that everyone should take time to sit down and watch, and with it leaving Netflix on July 1st, now is the perfect time.
A League Of Their Own
Movie history is filled with great movie's about America's past time -- and Penny Marshall's 1992 hit A League Of Their Own ranks among them. Not only does the film deliver an inside look at an area of an important era never before explored, but it functions with some truly excellent character work from a fantastic ensemble cast -- including Tom Hanks, Geena Davis, Lori Petty, Madonna, Rosie O'Donnell, and more. Given that we're in the midst of the baseball season, now is a pretty great time to watch it anyway.
Best In Show
Christopher Guest's Best In Show ranks as one of the best mockumentaries that the director and his ensemble of regulars has made, and that's saying quite a lot when you look at their resume. The movie is an incredibly strange look into the world of dogs shows, and it's propelled by a seemingly endless series of ridiculous characters and odd situations. Even if you've seen the movie before and don't necessarily want to watch the whole thing again, at least do yourself a favor and rewatch all of the scenes with Fred Willard, who is fall-off-your-seat hilarious as announcer Buck Laughlin.
A Clockwork Orange
Sadly this is a pretty rough month for Stanley Kubrick fans. Losing 2001: A Space Odyssey is a big loss for all the reasons mentioned earlier, but Netflix will also soon be losing streaming rights to the genius 1971 film A Clockwork Orange. This one certainly requires you to be in a proper state of mind before watching, as it remains just as disturbing pieces of work ever put to cinema, but it's still an extremely relevant, thrilling and brilliant movies ever made. If you've never seen it before, and don't necessarily want to commit to buying the Blu-ray, don't miss this opportunity.
Butch Cassidy and the Sundance Kid
Netflix features some pretty great westerns, including The Man Who Shot Liberty Valance, Meek's Cutoff, and Django Unchained, but on July 1st it will be losing the best in its catalog. Butch Cassidy And The Sundance Kid is arguably the greatest of the collaborations between Robert Redford and Paul Newman, and remains a truly wonderful piece of cinema that is as lovely as it is entertaining and action-packed. The streaming service is definitely losing a real gem with this one, so be sure to give it a proper send-off with a final viewing!
The Right Stuff
Astronauts are pretty amazing people. In addition to being incredibly intelligent and highly skilled, they also have the bravery to sit inside a rocket and get launched into space -- where any number of terrifying things can go wrong. There are many movies in cinema history that have celebrated these individuals, but Philip Kaufman's The Right Stuff easily ranks as one of the best. It's a shame this film won't be on Netflix for the Independence Day holiday, but you should watch it before you lose the opportunity.
Rubber
I'm a movie-lover who happens to have a hefty appreciation for the weird and bizarre, and if you're of a similar disposition, you really need to check out Quentin Dupieux's Rubber. It's a challenge to fully explain what this film is, but it's basically about a car tire named Robert that winds up possessing psionic abilities and goes around blowing up people's heads. If that description doesn't immediately put a huge smile on your face, you need not apply, but everyone else should go watch this one as soon as they can.
Star Trek II: The Wrath Of Khan
Good news for Star Trek fans: after July 1st, Netflix subscribers will still be able to watch the original series, The Next Generation, Deep Space Nine, Voyager and Enterprise - as well as the movie First Contact and the animated series. The bad news is that everything else -- meaning the first seven films are leaving. If you don't have time to watch all of these titles between now and July 1st, at the very least you should give Star Trek II: The Wrath Of Khan a watch, given that it's not only the best title in the franchise, but one of the best sci-fi blockbusters ever.
Team America: World Police
Back in 2004, Trey Parker and Matt Stone were primarily known for their work on South Park, but Team America: World Police really opened everyone's eyes to just how incredibly smart and funny the filmmakers truly are. Creating a Michael Bay/Roland Emmerich level blockbuster using puppets, the film succeeds in taking down not only ridiculous blockbusters, but also provides some excellent political and social commentary. If you really just need one excuse to watch the movie before it leaves Netflix, however, it's the film's original music -- which is just as satirically vicious and hilarious as the rest of the script.
Witness
It was Harrison Ford's work in the 1980s that truly established him as one of the greatest stars to ever hit the big screen - as it was the era of Indiana Jones, the last two original Star Wars movies, and Blade Runner - but not to be forgotten is director Peter Weir's dramatic and thrilling Witness. One could make the argument that it's the greatest movie ever made about Amish society (sorry Kingpin), and it has an ending that will live long in pop culture.
Serenity
Clearly there is a lot of amazing stuff leaving Netflix in July, but this one may come as the biggest shock. For a long time, the streaming service has been home to many of Joss Whedon's greatest hits -- including Buffy The Vampire Slayer, Angel, Firefly, and the under-appreciated Dollhouse - but next month the filmmaker's directorial debut will be getting the axe. The good news is that Serenity is different from the other titles on this list in that it will be sticking around until July 16th, but that just means you should try and watch it multiple times instead of just once.
NJ native who calls LA home; lives in a Dreamatorium. A decade-plus CinemaBlend veteran; endlessly enthusiastic about the career he's dreamt of since seventh grade.
Your Daily Blend of Entertainment News
Thank you for signing up to CinemaBlend. You will receive a verification email shortly.
There was a problem. Please refresh the page and try again.