Ghostbusters Has A Porn Parody Trailer And The Logo Is Absolutely Perfect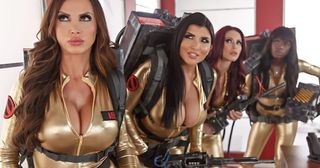 There's a large contingent of people who have a serious problem with the all-female reboot of Ghostbusters. We're guessing they'll have no problem with this version of the story. There will be a new porn parody of Ghostbusters (because of course there will be), which will coincide with the release of the reboot. If you really need a movie with male Ghostbusters, this version will have them, though obviously, in this case, an all-female team is the selling point.
While the movie is, in fact, called Ghostbusters XXX Parody (the least creative porn title ever, by the way), apparently the team of ghost-busting women will actually be called the Nutbusters. For what it's worth, the parody has decided to incorporate the backlash against the all-female reboot into the film itself. In this version, the women form their Ghostbusters team following an insulting encounter with male Ghostbusters. The two sides then compete to see who can bust the most...ghosts.
There's really not a lot that needs to be said about the trailer itself. While the content is safe for work, for the most part, we know what it is we're not seeing, and since that material is what's going to take up the vast majority of the film, there isn't a lot left to show here. Although, seeing the one Ghostbuster pull the table cloth off the table, in an obvious nod to the original Ghostbusters, is a nice touch.
Of course, the entire idea behind the Ghostbusters concept is that these people are running a business. To that end, the pornographic Ghostbusters need a logo, and if you're going to be selling the fact that your team is made up of women with offensively large breasts, your logo really needs to sell this fact.
It's a nice touch, even if the reboot beat them to the punch. They had a new Ghostbusters logo with breasts in the first trailer. Honestly, the parody probably cribbed the idea from them, as they certainly did the same thing with the image of the logo on the subway wall. Brazzers, the company behind the parody, says they made the parody due to the overwhelmingly negative response that the Ghostbusters reboot trailer received online, and decided to produce this version that fans "would truly want to see." While this statement may be true, it doesn't speak very well of those fans if it is.
Ghostbusters XXX Parody will be released on July 11. The actual Ghostbusters reboot hits screen on July 15.
Content Producer/Theme Park Beat
CinemaBlend's resident theme park junkie and amateur Disney historian. Armchair Imagineer. Epcot Stan. Future Club 33 Member.
Your Daily Blend of Entertainment News
Thank you for signing up to CinemaBlend. You will receive a verification email shortly.
There was a problem. Please refresh the page and try again.