How Shazam Will Fit Into The DCEU, According To The Producer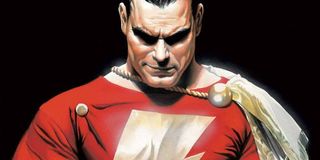 Given all of the recent excitement surrounding Suicide Squad, as well as the reveal of the core DCEU Justice League members, we would 100% forgive you for not even remembering Shazam! Billy Batson's solo movie has somewhat fallen by the wayside, but it's still definitely happening and it still definitely exists within the DCEU. How it specifically fits into the DCEU is where things get a little more complex, according to producer Dany Garcia. She elaborated:
Dany Garcia recently spoke to Newsweek and revealed that Billy Batson a.k.a Shazam does in fact exist within the same universe as Henry Cavill's Superman, Ben Affleck's Batman and Margot Robbie's Harley Quinn. He firmly shares this portion of the multiverse with the rest of the established silver screen DC characters. However, behind the scenes is where things get somewhat dicier. Despite existing within the same universe, Shazam! has an entirely different creative team working on it. This means no Zack Snyder, and no Charles Roven getting involved in the development process.
Although Garcia doesn't directly address it, this seems like a way to reassure fans that Shazam! won't necessarily become another Suicide Squad. After three DCEU outings, some members of the mainstream audience have begun to lose faith in DC's ability to produce high quality superhero entertainment. This statement seemingly sidesteps those concerns by letting fans know that a different team will bring them a different hero with an entirely different tone -- even if it's still grounded within an established universe.
Setting up those particular differences will go a long way towards making a Shazam! film work for the DCEU. He's really unlike anything that the DC superhero universe has adapted before, or plans to adapt in the near future for that matter. For those of you who don't know, Shazam is actually a young boy who comes to possess superhuman strength, speed, flight and the ability to summon lightning by uttering the word "Shazam." He has power to rival Superman, but his stories often rely on the notion of wish fulfillment, and examining the mindset of a child who can become a fully grown superhero at a moment's notice. It's basically Tom Hanks' Big set in a comic book world. To put it bluntly: it's fun.
Although it's still a long way off, it sounds like Shazam! will give DC fans something very, very different from what they've seen before. We will bring you more information related to the long-awaited Shazam! movie as more information becomes available to us. Billy Batson's solo adventure is currently slated to hit theaters on April 5, 2019.
Originally from Connecticut, Conner grew up in San Diego and graduated from Chapman University in 2014. He now lives in Los Angeles working in and around the entertainment industry and can mostly be found binging horror movies and chugging coffee.
Your Daily Blend of Entertainment News
Thank you for signing up to CinemaBlend. You will receive a verification email shortly.
There was a problem. Please refresh the page and try again.