Vin Diesel's First Official XXX 3 Image Comes With A Special Message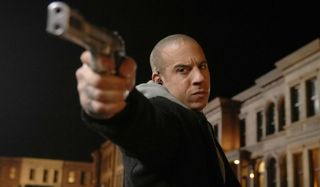 2017 will be a pretty busy year for Vin Diesel. His work recording vocals as Groot for Guardians Of The Galaxy Vol. 2 probably wasn't too strenuous and The Rock would insist that he had plenty of downtime on Fast 8. But all of this will change with XXX: Return Of Xander Cage, as Vin Diesel will have to spend several months of next year promoting all three films.
In fact, the first inkling of XXX: Return Of Xander Cage's promotional campaign has now emerged on Instagram, and it's pretty damn bad-ass.
It's hard to tell if Vin Diesel's eyes are closed because he's slipped into a brief coma or if he's just getting himself ready to kick a tremendous of ass. But either way the muscle-bound leading man looks more than ready to rumble, and his tattoo is immediately impressive, too.
While a poster is always good to see, it doesn't really give us any indication of the type of action and outlandish spectacle that we will get to see in XXX: Return Of Xander Cage. Luckily, we've got a teaser trailer that does that for us, and it suggests that XXX: Return Of Xander Cage is going to be as wonderfully over the top as we all hoped.
Those of you that have been keeping up with the XXX franchise probably have a few questions regarding The Return Of Xander Cage, as it was previously revealed that the titular action hero had perished. At least, that was the reason given for Vin Diesel's absence in 2005's XXX: State Of The Union, which was the follow-up to 2002's XXX that Diesel had previously led.
As its title suggests, in XXX: Return Of Xander Cage it's revealed that the titular hero not only faked his death over a decade ago, but that he has been living in hiding since then. But after an apocalyptic weapon only known as Pandora's Box is apprehended by Donnie Yen's Xiang, Xander Cage comes out of exile to try and save the world.
Unfortunately Ice Cube's Darius Stone from State Of The Union won't be around in Return Of Xander Cage, but Vin Diesel will be joined by Donnie Yen, Samuel L. Jackson, Nina Dobrev, Ruby Rose, Tony Jaa, Toni Collette, Rory McCann, and, rather bizarrely, Neymar for the blockbuster. We'll get to see them in action when XXX: The Return Of Xander Cage is released on January 20, 2017.
Your Daily Blend of Entertainment News
Your Daily Blend of Entertainment News
Thank you for signing up to CinemaBlend. You will receive a verification email shortly.
There was a problem. Please refresh the page and try again.