Why Vin Diesel Is Being Sued Over The New xXx Sequel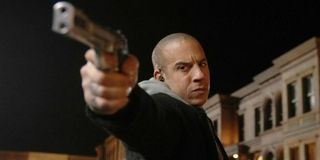 Following the poor box office return of 2005's xXx: State Of The Union, it was assumed that the franchise would lay dormant forever. However, Vin Diesel's resurgence with the Fast & Furious series saw a new interest in a xXx film emerge, and he's been working on bringing a third installment to the big screen for a while. Vin Diesel has now come up against some resistance, though, in the shape of a former producer who insists that he's owed around $275,000 for the upcoming film.
According to The Wrap, George Zakk filed his lawsuit against Vin Diesel and his production company in Los Angeles Superior Court. George Zakk insists that he worked for Vin Diesel's production company One Race Films, helping to develop projects. In exchange for his actions, George Zakk was supposed to receive producers' credits and a fee that was between $250,000 and $275,000.
Here's where things get tricky, though, because George Zakk finished his working relationship with both Vin Diesel and One Race Films back in 2007. However, George Zakk believes that their contractual agreement with the production company included sequels that he helped to develop for Vin Diesel, which the actor also starred in and produced.
Since xXx 3 is currently scheduled for release in January, George Zakk is adamant that he's owed not just a $275,000 fee but also an executive producer's credit for the film, too. Vin Diesel has yet to respond to this lawsuit, which George Zakk filed alleging a breach of oral contract and a breach of implied-in-fact contract.
This lawsuit isn't likely to cause much interference to the impending release of xXx 3, which has the title of xXx: The Return Of Xander Cage, and is due to hit cinemas on January 20, 2017. Following on from Pitch Black and The Fast And The Furious, Vin Diesel proved that he was a bona-fide action hero as xXx's athlete-turned-reluctant spy Xander Cage all the way back in 2002.
Even though xXx went on to gross over $277 million across the world, Vin Diesel and director Rob Cohen decided not to return for 2005's xXx: State Of The Union. Even the presence of Ice Cube couldn't save the sequel, which flopped and seemingly left the franchise in tatters.
But Vin Diesel has been teasing a possible third xXx film for the last decade. That's despite the fact that Xander Cage was supposedly killed before the sequel, which was used to explain his absence from the Ice Cube-led xXx: State of the Union. xXx: The Return Of Xander Cage will see him return from exile so that he can take on Donnie Yen's Xiang, a villain who has his sights set on acquiring the unstoppable weapon known as Pandora's Box.
Samuel L. Jackson will be reprising his role as Agent Augustus Gibbons for the third time, while Tony Jaa, Deepika Padukone, Nina Dobrev, Ruby Rose, Toni Collette, Kris Wu, Ariadna Gutierrez, Michael Bisping, and Tony Gonzalez have all joined the cast. We'll get to see if Vin Diesel is actually able to rejuvenate the xXx franchise with The Return Of Xander Cage when it's released on January 20, 2017.
Your Daily Blend of Entertainment News
Thank you for signing up to CinemaBlend. You will receive a verification email shortly.
There was a problem. Please refresh the page and try again.