How Netflix Just Seriously Pissed Off Movie Theaters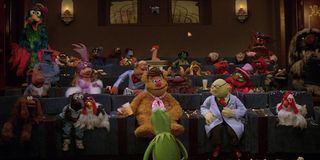 For decades, the movie releasing formula remained consistent. A feature film would first be released in theaters, spend some time there for a couple months and then it would eventually arrive on home media. Then the popular online streaming service Netflix threw a wrench into the works when it started producing its own original movies to accompany its original TV content. Many theater chains have refused to show Netflix's original movies at the same time they become available on the website, but iPic Entertainment has opted to join forces with Netflix, a decision which has drawn a fair amount of anger.
As reported by The Wall Street Journal, iPic, a luxury theater chain, will kick off its deal with Netflix by showing the war thriller The Siege of Jadotville in Los Angeles on Friday, the same day it will be released on the streaming service. The mockumentary Mascots will follow on October 13 at the iPic Fulton Market Building. This deal will cover up to 10 Netflix movies, and while iPic currently only has 105 screens across 15 theaters in the United States, they're expanding, with 20 more locations on the way. This won't the first time a Netflix movie has gotten theatrical access, but this deal does mark the biggest step towards a prolonged commitment with an exhibitor.
However, as mentioned earlier, not everyone is pleased with this deal. NATO (to clarify, this is the National Association of Theatre Owners, not that other NATO) has since sent out a public statement (via Deadline) reaffirming their belief that a "period of exclusivity" regarding theatrical releases is important to both movie theaters and the movie industry in general. Basically, one of the main reasons for opposition against screening original Netflix movies in theaters has been that if customers have the option of seeing something both in a theater and the comfort of their own home, many will choose the latter, which will hurt theaters in the long run. In their eyes, this iPic deal throws a wrench into the works.
While some major theater chains are likely displeased with iPic's deal, it will ideally be nothing but beneficial for Netflix. For one thing, they'll obviously getting extra box office revenue, although how exactly their haul will be split with iPic wasn't disclosed. Let's also not forget that a theatrical presence will help Netflix's original movies gain extra promotion, which will definitely help when it comes to Academy Award aspirations. In order to be eligible for an Oscar, a movie has to play for at least a week in New York or Los Angeles, and iPic has both those cities covered. Of course, just because a Netflix movie is displayed on the big screen doesn't necessarily guarantee it will be successful on either fronts. Last year, Beasts of No Nation played in 50 locations, but it only made $90,000 and wasn't nominated for any Oscars.
However you look at it, Netflix's partnership with iPic will undoubtedly be an interesting experiment on just how effective these kinds of simultaneous screenings can be. Let us know what you think of this development in the comments below.
Your Daily Blend of Entertainment News
Connoisseur of Marvel, DC, Star Wars, John Wick, MonsterVerse and Doctor Who lore. He's aware he looks like Harry Potter and Clark Kent.