New DVD Releases: When To Buy The Latest Movies In November 2016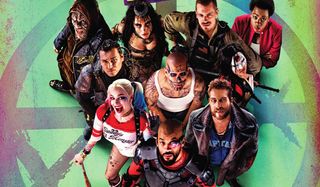 As the major Blu-ray and Digital content producers start gearing up for the holidays, the list of interesting releases gets a little larger. From box sets, to TV series and even some big movie releases, November has a lot to offer. One big thing we should note is that Netflix and Marvel have teamed up to put the first of its combined offerings onto Blu-ray and DVD, and you'll be able to catch Matt Murdock in action without logging into Netflix starting on Tuesday, November 8. You can take a look at the big November 2016 releases, below.
In addition, if you are wanting to see what hit shelves in October, you can take a look at last month's new DVD releases, here. Unless otherwise noted in the "Early" release column, Digital releases come out the same day as the Blu-ray and DVD releases.
Star Trek Beyond Blu-ray Review
It's been a couple of months since director Justin Lin mentioned it wouldn't be likely that we'd be seeing any deleted scenes on the Star Trek Beyond Blu-ray, but Paramount Home Media Distribution's set is finally here, and it definitely does come with a slew of features, including two deleted scenes. The third film in the Kelvin Timeline kicks off with Captain James T. Kirk (Chris Pine) and the rest of the crew (Simon Pegg, Zoe Saldana, John Cho, Zachary Quinto, Anton Yelchin and Karl Urban) on a five-year mission in space. That mission can be challenging and has left Kirk and others feeling a little disconcerted about their respective paths. After encountering a bad guy named Krall (Idris Elba), the team is separated, and Scotty meets a local named Jaylah (Sofia Boutella) who helps the team reach each other and take on Krall. It's an action-packed adventure, filled with exciting space sequences and amusing jokes. Paramount's set comes with a slew of behind-the-scenes extras, including an interview with J.J. Abrams, who explains why Justin Lin was hired for the gig. A tribute feature for Leonard Nimoy and Anton Yelchin is also memorable, and the extra talks about why the movie nodded at Spock in the way it did. 3D and regular Blu-ray copies of the movie are available and you can order your own over at Amazon. In addition, there are a bunch of different options for Star Trek Beyond Blu-rays. To take a look at our unboxing of seven of the different sets available, head here.
Outlander: Season 2 Blu-ray Review
Over the past few years, Starz has quietly built up a shining lineup of original programming as varied as Power, Black Sails and Ash vs. Evil Dead. Quickly spearheading this lineup has been Outlander, a time travel romance series that just finished out its second season run this October. If you enjoy steamy scenes, lush sets and costumes and historically-inclined plotlines---or really, any one of the three-- Outlander: Season Two is probably a set for you.
Season 2 kicks off with Claire (Caitriona Balfe) in the present, where we learn she left Scotland and the 18th century to return to Frank (Tobias Menzies). Eventually, however, we get to see scenes between Jamie (Sam Heughan) and Claire leading to Claire's ultimate decision. The two become embroiled in the Jacobite Revolution and spend time in Paris trying to play double agents, which leads to some seriously tense moments. The whole season is spectacular, and a fitting follow-up to the freshman episodes of the show, although the adventure is very different this time around. Sony Pictures Home Entertainment's Blu-ray is a 5-disc set with bonus features on each disc. An extended episode is sure to please fans who caught the show's original run on Starz, and deleted and alternate scenes abound. If you are a fan of podcasts, some that are geared to the show are included, which is a slightly different sort of feature than you would normally see with a Blu-ray release. Since the show has made some big changes from the story Diana Gabaldon originally wrote, the Blu-ray also tackles those changes head on with a feature dedicated to them. You really can't go wrong with this set, unless you are holding out for the Ultimate Collection that is probably going to come at some point. Order your own copy of Outlander: Season Two here.
Bad Moms Blu-ray Review
It's a big week for movie and TV releases, but luckily each of those releases is in a very different sort of genre. Universal Pictures Home Entertainment's Bad Moms mixes female characters with raunch comedy in a movie that does not shy away from f-bombs. But if you're OK mixing chardonnay with profanity, this might be a movie for you. Jon Lucas and Scott Moore's film stars Mila Kunis, Kathryn Hahn and Kristen Bell as moms who are rioting against being perfect. After her husband cheats on her, Amy (Kunis) stops giving a crap about being the perfect mom and career-woman. She makes friends with single mom Carla (Hahn) and stay-at-home mom Kiki (Bell) and the two start skipping PTA events and buying store-bought baked goods for school functions in order to spend their free time getting drunk and raging against the system. Some of this is very funny whereas some of it falls flat, but in terms of female raunch comedy these days, Bad Moms is a movie that a lot of moms---and women in the workplace in general---will identify with. Extras with the set aren't spectacular, although you'll love the interviews with the cast and their own moms (snippets of these appear in the end credits of the film). A DVD and Digital copy are also included with the Blu-ray set. Order your own copy here (opens in new tab).
Tuesday, November 1 Blu-ray and DVD Releases
Bad Moms
The Sea Of Trees
Outlander: The Complete Second Season
Nine Lives
Batman: Return of the Caped Crusaders
The Librarians Season 1 DVD
Hell On Wheels: Season 5 Volume 2 The Final Episodes
Reign of Assassins
The Lost Bladesman
Gleason
Athropoid
Imperium
The Lost Bladesman
Week Of November 1 Early Digital Releases
Outlander Season 2 (October 31)
Space Dogs: Adventure to the Moon
Black Sails: The Complete Third Season Blu-ray Review
Black Sails was not a show that kicked off with a bang. It took time for us to get to know the characters and get invested in the setting and the characters. If you've stuck with the drama, you've been rewarded with a series that is both delicate and brazen, a drama with complex characters and complicated relationships foraging ahead in one of the most dangerous places on Earth. The Starz drama just recently made its third season available on Blu-ray and DVD, and it's one of the nicer sets we've see this year, with a holographic cover, cool packaging featuring Toby Stephens, Luke Arnold, Hannah New, Jessica Parker Kennedy, Toby Schmitz, Clara Paget, Zach McGowan, Tom Hopper, Winston Chong and Ray Stevenson in full costume. Plus, it offers a slew of bonus features looking behind the scenes at the series. The third season follows Captain Flint (Stephens) and his crew, including through near starvation and eventual imprisonment by islanders. Eventually, Charles Vane (McGowan), Flint and others get involved in ideals leading to war. This fight between Nassau and the British claims lives and alliances and makes for an explosive 10 episodes, which can be viewed in this three-disc Blu-ray set that also comes with a Digital copy. Black Sails has already been renewed for a fourth season, a season which will also be the show's last, and this set is a nice setup for those final episodes. This is a nice set, indeed, with extras looking at Blackbeard's origins and "A Pirate's Last Words" segment being the standouts. Order your own copy here.
Tuesday, November 8 Blu-ray and DVD Releases
Daredevil: The Complete First Season
Sausage Party
Billions: Season One
Black Sails: The Complete Third Season
Powers: Season Two DVD
Turn: Washington's Spies: The Complete Third Season
Indignation
Lo and Behold
Morris From America
Legend of Bruce Lee: Volume One
Week of November 8 Early Digital Releases
War Dogs
Kubo and the Six Strings
Absolutely Fabulous (November 11)
Finding Dory Blu-ray Review
Finding Dory doesn't have quite the originality or sense of wonderment of its predecessor Finding Nemo, but it's actually even funnier and perhaps even more delightful. Andrew Stanton's well-executed sequel has a lot to say about family, both those we're born into and those we make, and with just the right number of jokes, it's a really satisfying ride. The end result is a Pixar movie with plenty of smiles to offer and a touching and uplifting message to take away, starring Ellen DeGeneres as the short-term memory-challenged Dory and also featuring the return of Martin (Albert Brooks) and Nemo (new actor Hayden Rolence) from the original film. Walt Disney Home Entertainment's Blu-ray set features over two hours of extras. It would take some time going into detail about these, but we'll give you the highlights. There's an extra about the animation that explains that Dory always starts out in a ping-pong shape and is drawn out from there. Other behind-the-scenes extras look at how Dory's theme was made and more. The living aquariums are fine enough looks at underwater life, but they may not distract the kiddos as much as a real aquarium. A slew of partially animated deleted scenes also round out the disc and come with an explanation for why deleted scenes become deleted scenes. You can order your own copy of Finding Dory here.
Tuesday, November 15 Blu-ray and DVD Releases
Star Wars: The Force Awakens 3D Collectors Edition
Finding Dory
The Mindy Project: Season Four
Game of Thrones: The Complete Sixth Season
Looking: The Complete Series And The Movie
Eight Days A Week (November 18)
Week of November 15 Early Digital Releases
Jason Bourne
War Dogs Blu-ray Review
Based on a true story, Todd Phillips' War Dogs follows two dudes who are living out the bromance from hell, packaging and selling weapons as part of a covert government contract. In the complex world of nabbing large arms contracts, David (Miles Teller) and Ephraim (Jonah Hill) get involved in a scheme to repackage Albanian arms bought from China in order to resell them to the U.S. for the war in Afghanistan. It's a crazy scheme that comes with danger, bad intentions, failures and broken friendships and it makes for one heck of a movie. If you haven't given Warner Bros. Home Entertainment's movie a watch, yet, you'll be able to do so this week, as War Dogs is heading to Blu-ray on November 22. The release comes with a Digital copy of the movie along with the Blu-ray (the disc is also pink, which is adorable.) There are a couple of featurettes with the movie, but not any really compelling extras, which is surprising because War Dogs is based on a true story and frequently the networks love to get into depth with behind-the-scenes info. To get more on the story, check out Guy Lawson's factual article written about the events or order your own copy here.
Tuesday, November 22 Blu-ray and DVD Releases
Space Dogs: Adventure To The Moon
War Dogs
Texas Rising/ Sons Of Liberty Double Feature
Hell or High Water
Kubo and the Two Strings
I.T.
Masterpiece Poldark: The Complete Second Season
Yoga Hosers
Mechanic 2: Resurrection
Chicken People
Week of November 22 Early Digital Releases
Pets
Pete's Dragon Blu-ray Review
Disney has made a big push back into live action over the last couple of years, reimagining some of the company's classic films in a whole new way. One of these reimagined films is Pete's Dragon, which reimagines Pete (Oakes Fegley) as a young boy living in the 1970s who loses his parents in a car crash. He's rescued by a dragon named Elliott and lives in the woods with him until a logging incident introduces him to humans Jack (Wes Bentley) and Grace (Bryce Dallas Howard). The ensuing adventure features plenty of love but also plenty of danger for Pete and his dragon pal. Director David Lowery did a good job with the look of this film, creating a dragon that doesn't look too cartoon-y but is still imposing when he needs to be. The movie has heart, too, and it's a more memorable feature than some of Disney's other live action Disney films. If you've seen the movie and want it for your own collection, Walt Disney Home Entertainment's set is pretty enticing. For the adults, David Lowery put together a set diary that features some intriguing tidbits from the making of the film. There are some "lost" scenes on the disc for kids of all ages, and even a goofy blooper reel, which is unusual for a family movie. The Blu-ray also comes with both a DVD and Digital copy, which is becoming increasingly rare. Thanks to the Thanksgiving holiday, the movie is currently running at a very special price on Amazon. You can order your own copy here.
The BFG Blu-ray Review
Walt Disney Home Entertainment has two big releases our today. One is the aforementioned Pete's Dragon and the other is the less prominent release The BFG. While the gobblefunk language of the Big Friendly Giant may be hard to understand at times, the movie is at its best when the BFG is showing Sophie his inventions in his home or acting as a fish out of water character in the palace. The Roald Dahl children's classic looks great on the big screen in Steven Spielberg's capable hands, as green screen technology has allowed giants to grow taller and fantastical settings to look more vivid in recent years. The movie hits the best beats in the book and is a good adaptation for avid readers everywhere. Extras on the disc are fun, especially for readers. One of the big extras is a behind-the-scenes feature, which has Ruby's set diaries but is better when we are hearing from Lucy Dahl or the producers on the show, who were all simply captivated by the original book. If you'd like to get your human-sized hands on your own copy, you can order the movie here.
Don't Breathe Blu-ray Review
Writer/director Fede Alvarez may always be known as "the guy who remade Evil Dead," but his 2016 follow-up Don't Breathe is proof that he can do even better work with completely original material. With a bare-bones synopsis of "young thieves pick the wrong blind man's house to rob," Don't Breathe makes up for narrative complexity with a wall of tension that starts up in the middle of the first act and doesn't ease up until the credits are rolling. Actor Stephen Lang gives arguably the most terrifying performance of his decorated career as the unnamed war vet homeowner whose presumed victimization gives way to completely different opinions as the movie goes on, and Lang's work is complemented by tortured turns from co-stars Jane Levy, Dylan Minnette and Daniel Zovatto. So many indie horror movies blow their own potential with thinly drawn main characters and horribly conceived dialogue, and Don't Breathe manages to cleverly use both of those elements to its advantage, making us wonder why more horror films don't utilize the concept of silence more often. The Don't Breathe Blu-ray offers up featurettes centering on said silence, the central location and the cast, along with eight deleted scenes that can be watched with or without director commentary. The best extra of the bunch, to me, is the feature-length commentary from Alvarez, Lang and co-Writer Rodo Sayagues, since they get into the nitty gritty about making the film. If you want to own a copy of Don't Breathe's Blu-ray for yourself, but are too afraid to speak up about it, you can order it here.
Tuesday, November 29 Blu-ray and DVD Releases
Pete's Dragon
The BFG
House of Lies: The Final Season
The Wild Life
Don't Breathe
Your Daily Blend of Entertainment News
Reality TV fan with a pinch of Disney fairy dust thrown in. Theme park junkie. If you've created a rom-com I've probably watched it.