Why Taylor Swift's Deadpool Costume Was So Much Cooler Than Your Deadpool Costume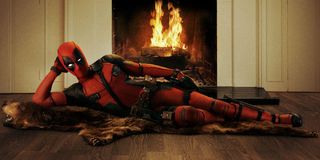 Celebrities took Halloween to the next level this year. From Bette Midler reviving Winifred Sanderson, to Colton Haynes' terrifying Miss Piggy outfit, Hollywood was awash with badass costumes for this spooky holiday. However, few celebrities managed to nail Halloween quite like Taylor Swift. Her Deadpool outfit was insanely detailed, and that might be due to the fact that she possibly had some help from Ryan Reynolds. Check out the Instagram post below to see for yourself.
That's right, folks; Taylor Swift claims in the above Instagram post that her Deadpool costume was acquired for her by none other than the Merc with the Mouth himself. Giving a shout out to Ryan Reynolds, Ms. Swift expresses gratitude to the actor and makes the bold claim that she actually got to wear a genuine Deadpool costume from the production of the movie. Personally I feel inclined to believe her, because that's definitely a better-looking Deadpool mask than the one that I wore this year.
Although Taylor Swift could have simply been joking, a comment on her post seems to corroborate her claims. Ryan Reynolds has yet to really address whether or not he helped Taylor Swift get her hands on a Deadpool outfit, but his wife, Blake Lively, commented on Swift's post with the hash tag, "#HusbandUpgrade." It's okay to feel jealous of Taylor Swift's inside sources; we're all feeling that right now.
That being said, I have a hard time believing that she wore the Deadpool costume from the film's production. Taylor Swift is a pretty slender individual, and Ryan Reynolds is a much taller, burlier fellow. Given how well the costume seems to fit her in the photo below, the more likely scenario is that Ryan Reynolds was able to hook her up with a properly fitted version of the movie outfit.
While I know that this is simply a badass Halloween costume, it definitely gets me thinking about where the Deadpool franchise could take this joke from here. Ryan Reynolds and Taylor Swift clearly have a rapport with one another, so perhaps we may eventually see Taylor Swift to take on the alternate reality persona, Lady Deadpool, at some point and star in a future Deadpool sequel alongside Wade Wilson. Given Deadpool's affinity for bizarre fourth wall breaks, we don't think that it's completely outside the realm of possibility. Beyond that, it's definitely better than bringing in Taylor Swift to play Dazzler.
Ms. Swift, I have to seriously tip my hat to you for your Halloween costume. That was some A+ cosplay.
Your Daily Blend of Entertainment News
Originally from Connecticut, Conner grew up in San Diego and graduated from Chapman University in 2014. He now lives in Los Angeles working in and around the entertainment industry and can mostly be found binging horror movies and chugging coffee.