Dumbledore Casting: Here's What Fantastic Beasts' David Heyman Told Us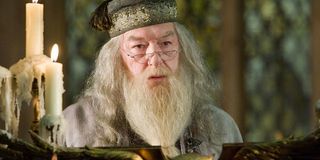 The cat was released from the bag long before those Fantastic Beasts found their way out of Newt Scamander's case. First we learned that J.K. Rowling was planning enough material for a grand total of FIVE new movies in the Fantastic Beasts and Where To Find Them series. Then, the news broke that Albus Dumbledore, eventual headmaster of Hogwarts School of Witchcraft and Wizardry, would show up in Fantastic Beasts 2... which likely will be in theaters in 2018.
So, with news breaking all around us, we had our own Greg Wakeman sit down with legendary Harry Potter and Fantastic Beasts producer David Heyman to ask what the team is looking for in a young Albus Dumbledore, and when they thought they would begin casting this crucial role. Heyman told us:
And yet, even if the script is in development, the Fantastic Beasts 2 team HAS to be aware of what they need to see in a potential Albus Dumbledore. This is, after all, as famous a character in the wizarding world of J.K. Rowling as Harry Potter or Lord Voldemort. Some might argue he's more famous than those two, and the five total Fantastic Beasts movies likely will explore as much of Dumbledore's past as the Potter films explored Harry's rise.
With that in mind, David Heyman elaborated to us what they are thinking about when they eventually cast Albus Dumbledore for the Fantastic Beasts And Where To Find Them films, telling us:
Ah, Grindelwald. A mysterious character we expect to meet in Fantastic Beasts and Where to Find Them who also will play a large role in the movies going forward (if what we suspect will happen actually happens). News on Grindelwald is making the rounds, though we aren't huge on spoiling movies that haven't reached theaters yet, so click here if you want to know the latest buzz.
But yes, the casting of Albus Dumbledore in Fantastic Beasts 2 likely will lean heavily on what we eventually learn in this upcoming Fantastic Beasts, which stars Eddie Redmayne, Katherine Waterston, Alison Sudol, Dan Fogler, Ezra Miller, Samantha Morton, Jenn Murray, and Colin Farrell. It opens in theaters on November 18. Will you check it out?
Your Daily Blend of Entertainment News