Daisy Ridley's Chaos Walking Looking To Add A Marvel Star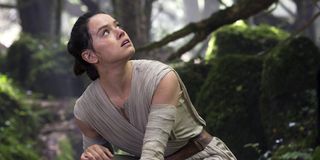 Chaos Walking has acquired two actors and a director that immediately set it up as one of the most anticipated films currently in development, especially since both actors have already proven that they can handle themselves in the rigors of the Star Wars and Marvel universes, respectively. That's because Daisy Ridley (Star Wars: The Force Awakens) and Tom Holland (Spider-Man: Homecoming) have signed up for Chaos Walking, which will be directed by Doug Liman.
The Hollywood Reporter has revealed that while Daisy Ridley has already signed on the dotted line to be apart of Chaos Walking, Tom Holland is still in negotiations to join her. Doug Liman has been working with Lionsgate on Chaos Walking for a while, and because of his past efforts on Swingers, The Bourne Identity, Mr. & Mrs Smith, Jumper, and Edge Of Tomorrow, there's quite a bit of expectation and anticipation surrounding what he'll do with the film.
Chaos Walking is an adaptation of the YA trilogy of novels by Patrick Ness, which were met with hugely positive reviews upon their release and each of the books went on to become best-sellers when they were released between 2008 and 2010. Chaos Walking is set in a world where every single woman on the planet has been killed by a germ, while at the same time all living creatures can now hear each other's thoughts through a steady stream of words, images and sounds that are collectively called Noise. Tom Holland will play the role of a boy that is made to flee his home town alongside his dog, but before long he comes upon a girl, who will be played by Daisy Ridley.
As well as the pairing of Daisy Ridley and Tom Holland in the leading roles and Doug Liman attached as director, Chaos Walking also has the added bonus of Oscar-winning screenwriter Charlie Kaufman having worked on the original draft for the project, too. Jamie Linden, who scribed Money Monster for Jodie Foster, which was released earlier this year, has also worked on the script. The producing team for the film is made up of Doug Davison, who oversaw American Made alongside Doug Liman (which is due out in September 2017), as well as Allison Shearmur, who most recently put her skills to Rogue One and Cinderella as a producer.
Now just comes the tricky part of finding the available time for both Daisy Ridley and Tom Holland to shoot Chaos Walking. Daisy Ridley most recently finished shooting on Star Wars: Episode VIII, but will be needed back for Star Wars: Episode IX in a few months time. Tom Holland has Spider-Man: Homecoming due out in July and he'll be required to return as Peter Parker for several more Marvel Cinematic Universe films in the near future, too. Fingers crossed they can find a window, because at the moment, the talent involved makes Chaos Walking one of the most tantalizing mainstream films currently in development.
Your Daily Blend of Entertainment News