Guardians Of The Galaxy Vol. 2's Teaser Trailer Just Broke An Impressive Marvel Record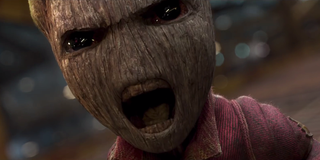 After debuting at CCXP in Brazil, Guardians of the Galaxy Vol. 2's teaser trailer, following a little over a month after that 90-second sneak peek, was released to the public this past Saturday. It had a lot of enjoyable moments, from Baby Groot failing to understand he shouldn't press a "death button" to Drax laughing at Peter Quill's embarrassment. Marvel movies have become so popular that it's guaranteed their previews will wrack up a lot of views, but Guardians of the Galaxy Vol. 2 just set itself apart from the pack by becoming the most viewed teaser trailer for a Marvel movie within 24 hours.
Director James Gunn proclaimed this on his Facebook page earlier today, stating that the Guardians of the Galaxy Vol. 2 teaser trailer accumulated 81 million views in its first 24 hours of availability across multiple platforms. Not only is this a huge Marvel win, but that also makes it the second biggest teaser trailer debut ever, following behind Beauty and the Beast, a fellow Disney family release which scored the top spot last month. As an added bonus, Gunn also revealed that "Fox on the Run" by Sweet, the song that played during most of the trailer, scored the #1 spot on the iTunes Rock chart.
James Gunn was clearly appreciative of all the trailer views, thanking fans for "welcoming Baby Groot and Mantis," as well as showing gratitude to the marketing people at Disney and Marvel for putting up with his "eccentricities" during the editing process. Clearly that massive number proves that people, whether they're longtime comic book fans or just Groot fanatics, are still deeply invested in the Guardians two years after their first movie was released. While Marvel has enjoyed years of success with their movies, Guardians of the Galaxy was a surprise hit, using offbeat humor, popular music from the '60s, '70s and '80s, and a dash of MCU connectivity to draw all kinds of moviegoers in to watch a group of heroes who were D-list characters in the comics. Judging by the new Guardians of the Galaxy Vol. 2 preview, we can expect more of the same and then some come next summer.
Set two months after the first movie, Guardians of the Galaxy Vol. 2 will see the heroes opening their ranks to Mantis, Nebula and Yondu, while also trying to keep their unusual family together as they continue their adventures across the...galaxy. Along the way, they'll cross paths with Ayesha, leader of the Sovereign people; Ego, an ancient cosmic being and Peter Quill's father; and a mutinous band of Ravagers led by Taserface. Of course, one of the biggest draws will be Baby Groot, who was a bundle of cuteness in the teaser trailer, but also showed that he can be a powerhouse when properly angered.
Guardians of the Galaxy Vol. 2 hits theaters on May 5, 2017.
Connoisseur of Marvel, DC, Star Wars, John Wick, MonsterVerse and Doctor Who lore. He's aware he looks like Harry Potter and Clark Kent.
Your Daily Blend of Entertainment News
Thank you for signing up to CinemaBlend. You will receive a verification email shortly.
There was a problem. Please refresh the page and try again.