The Avengers Member Groot Will Fight, According To Vin Diesel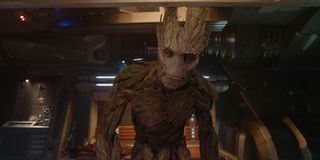 Superheroes are primarily tasked with keeping the innocent safe from evildoers, but there's also conflict among the good guys from time to time. 2016 provided plenty of that on the big screen alone with Batman v Superman: Dawn of Justice and Captain America: Civil War. In the latter's case, thats was the biggest case of hero on hero in-fighting in the Marvel Cinematic Universe yet, but it doesn't look like that will be the last bout. That's because Vin Diesel expects that his Guardians of the Galaxy character, Groot, will fight Hulk, one of the founding Avengers, at some point. According to the actor:
Vin Diesel made this revelation while chatting with Roth Cornet from Screen Junkies. The Fast 8 star didn't provide any details about why such a showdown would occur, but it stands to reason he's heard rumblings from key folks at Marvel that a Hulk vs. Groot fight is coming in the near future. Hulk might seem like the clear choice for winner in such a confrontation since he's one of the most powerful beings in the Marvel universe. However, don't look at Groot as a slouch. On top of his own enhanced strength, he can regenerate his body (or regrow, rather) and control plant life.
Of course, Hulk and Groot fighting each other is nothing new. In 1976's The Incredible Hulk Annual #5, Groot was one of the monsters the Green Goliath battled. This was back when the talking tree was a villain rather than a force for good. They've clashed a few more times in the comics and other media, like the animated series Avengers: Earth's Mightiest Heroes. Let's just hope that when they throw down in the MCU, Groot is back to being a giant rather than baby-sized.
As for when this fight could occur, 2018's Avengers: Infinity War is the best bet, as Hulk and Groot, not to mention a lot of other heroes from the MCU, will cross paths when Thanos comes calling on Earth. Of course, that doesn't explain why the two protagonists would need to fight in the first place, but there are a few options. One is that the Mad Titan might use the Infinity Stones to control their minds and make them tear each other apart. Another possibility is that much like how Iron Man and Thor fought each other in The Avengers, Hulk and Groot's fight will be due to a misunderstanding, and they'll eventually back off on their own accord.
Baby Groot can be seen alongside the other Guardians of the Galaxy when their sequel movie hits theaters on May 5, 2017, while Hulk will return for his own cosmic adventure when Thor: Raganrok is released on November 3, 2017.
Connoisseur of Marvel, DC, Star Wars, John Wick, MonsterVerse and Doctor Who lore. He's aware he looks like Harry Potter and Clark Kent.
Your Daily Blend of Entertainment News
Thank you for signing up to CinemaBlend. You will receive a verification email shortly.
There was a problem. Please refresh the page and try again.