Avengers: Infinity War Casting Call Leaves Off One Very Important Marvel Superhero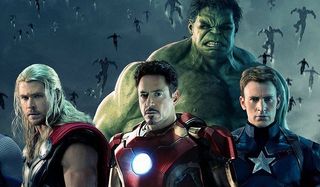 Marvel Studios is about to embark on its biggest project to date, a bold statement when you consider what the studio already has been able to pull off. After introducing numerous superheroes over the course of 14 films, Marvel and the Russo Brothers plan to unite the MCU superpowers together in a common fight against Thanos, who'll be played by Josh Brolin. The cast of Avengers: Infinity War has no real surprises in it... until you comb the casting list and notice that Spider-Man's name is missing.
Avengers: Infinity War is about to begin filming in Atlanta, and is expected to film for an entire year as it prepares for its May 2018 release. As such, an open casting call landed on MovieCastingCall.org, and several movie geek sites jumped on the inclusion of Brie Larson as both Carol Danvers and Captain Marvel. Understood. But when you scan the list of actors who'll star in the massive production, Tom Holland isn't there. Does this mean Spider-Man won't join The Avengers when they assemble to take down Thanos in 2018?
Let's think about this. Everyone we expected to show up from the MCU is listed on the casting call, from Chris Evans and Robert Downey Jr. to Chris Hemsworth, Scarlett Johansson, Jeremy Renner and Mark Ruffalo (meaning Hulk will survive Thor: Ragnarok and fight alongside his fellow Avengers). New heroes such as Black Panther (Chadwick Boseman), Ant-Man (Paul Rudd) and Doctor Strange (Benedict Cumberbatch) are included, so the shining stars of Phases 2 and 3 are represented. Even the Guardians of the Galaxy are included, confirming that crossover (which we all basically assumed). But not Spider-Man.
Why? Two reasons, I'm guessing. One, the deal with Marvel and Sony truly is a film-by-film basis, with Marvel President Kevin Feige saying that the two studios struck a deal that included Captain America: Civil War and Spider-Man: Homecoming. Now, Sony has dated a sequel to Spider-Man: Homecoming, so the partnership will continue. But that doesn't mean Sony has signed off on Spidey sharing additional screen time in a Marvel movie like Avengers: Infinity War.
Additionally, it's possible that Avengers: Infinity War will be a little more galactic than previous Marvel movies, which could leave Spider-Man at ground level. If Hulk and Thor are still in space when the movie starts, this could explain how the Guardians cross over. Captain Marvel could hang with the Avengers on a galactic mission, but Homecoming is supposed to establish Spider-Man as a more grassroots hero. Would it even make sense for him to hop on a shuttle and fight Thanos on another planet?
We have a LOT of time to speculate, as Avengers: Infinity War is just getting underway with production. But the absence of Tom Holland's name on this lengthy casting sheet has me wondering if Spider-Man will be sidelined for this massive Marvel endeavor, and whether or not that makes much sense.
Managing Director at CinemaBlend. ReelBlend cohost. A movie junkie who's Infatuated with comic-book films. Helped get the Snyder Cut released, then wrote a book about it.
Your Daily Blend of Entertainment News
Thank you for signing up to CinemaBlend. You will receive a verification email shortly.
There was a problem. Please refresh the page and try again.