The Logan Trailer, Done With LEGOs, Is Adorably Morbid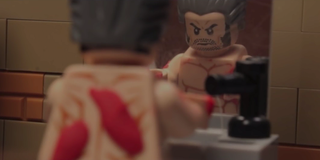 It's hard to make Logan look cute. Hugh Jackman's final round as Wolverine next year will be rated R, giving fans the metal-clawed mutant his bloodiest adventure yet after all the PG-13 spinoffs and main X-Men movies. Still, there's one good place to turn when you're looking to pour a heaping load of cuteness into a trailer, no matter what the genre: LEGOs. It turns out, even Logan can't escape such adorable treatment, as you can see for yourself.
YouTuber thebrickranger gave us the gift we didn't even know we wanted for Christmas by making this LEGO version of the first Logan trailer. The dialogue and Johnny Cash's version of "Hurt" remain, but all the characters and locations have been replaced by their colorful brick counterparts. Admittedly, some of the intensity from the original preview, but it's still amusing to watch the little versions of Wolverine, Professor X and the rest go through the motions. It was a cover touch using red Play-Doh to fill in for the blood and gore. The only thing that's a shame is the domestic trailer was used rather than the international one. I would have loved to see what Wolverine popping his claws into a guy's head looked like in LEGO form. Regardless, here's hoping thebrickranger does a LEGO version of the next Logan trailer, especially if it's a red-band one.
Using LEGOs to make superhero trailers more fun is nothing new. For instance, Avengers: Age of Ultron and Captain America: Civil War received their own fan-made LEGO trailers. Then, of course, there are the official LEGO cinematic productions being released, including The LEGO Batman Movie, The LEGO Ninjago Movie and The LEGO Movie Sequel. Just for fun, feel free to compare the LEGO-ized version of the Logan trailer to the original below.
Taking place in the future (sometime after X-Men: Days of Future Past), Logan will follow Wolverine as his healing factor is finally starting to falter after all these years, while his mentor, Professor Charles Xavier (Patrick Stewart), has become mentally unstable. If these issues weren't bad enough, the mutant population has also been decreasing. When Wolverine meets a young girl named Laura who is "very much" like him, from the claws to the ferocity, he'll soon see her as a kindred spirit. Although initially hesitant, Wolverine will then take it upon himself the protect the girl from a mysterious organization known as Transigen, which counts head of security Donald Pierce and Surgical head Zander Rice among its membership.
Logan slashes its way into theaters on March 3, 2017.
Your Daily Blend of Entertainment News
Connoisseur of Marvel, DC, Star Wars, John Wick, MonsterVerse and Doctor Who lore. He's aware he looks like Harry Potter and Clark Kent.