Donald Glover Is On A Star Wars Diet, Even Though He's Already In Way Better Shape Than Most Of Us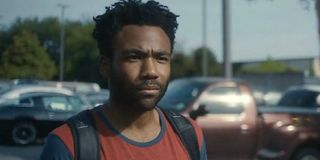 Donald Glover is absolutely slaying it right now. Not only did he previously write for 30 Rock, star in Community, model for GAP, and excel as both a stand-up comedian, but as rapper Childish Gambino he continues to flourish, his FX comedy Atlanta won two Golden Globes, he's set to star in Spider-Man: Homecoming in the summer, and he's currently prepping to play Lando Calrissian in the standalone Han Solo Star Wars film. It's enough to make you dislike him forever. Of course Donald Glover's immense talent and likability transcends any possible hatred, and he's now opened up about how he's currently getting into shape to portray Lando Calrissian, which is clearly an important role for the actor.
It turns out that in order to become Lando Calrissian, Donald Glover needs to go on a diet. Which is instantly depressing, because just one scan of his chiseled body and pecs will make you feel fat and ashamed. But Glover is well aware of the preparation that he needs to go through in order to do Lando Calrissian justice, especially because of the invariable pressure that both the fans and he himself are putting on his shoulders. According to USA Today, Donald Glover remarked, when asked about his prep for the part backstage at the Golden Globes on Sunday night:
What kind of world do we live in that a dude who LOOKS like Donald Glover needs to diet? For real! With so many interesting projects across a variety of medium on Donald Glover's horizons, it doesn't just look like 2017 will be yet another good year for the actor, rapper, comedian, writer, model, director, and whatever else he puts his mind, too, but it's safe to say that 2018, 2019, 2020 and beyond should be pretty incredible for him, too.
But the Han Solo Anthology film is set to push his fame and popularity to an even higher echelon. Donald Glover is stepping into Billy Dee Williams' rather big shoes in the role of Lando Calrissian, who debuted in The Empire Strikes Back before starring in Return Of The Jedi, too, while the character has appeared frequently across the Star Wars expanded universe of novels, comic books, and video games.
Donald Glover's casting as Lando Calrissian has helped to make the _Han Solo Anthology ___film one of the most anticipated projects currently in development in Hollywood. It's not just him, though, because Alden Ehrenreich as Han Solo, Emilia Clarke in a mysterious role, directors Christopher Miller and Phil Lord, and writers Lawrence Kasdan and Jon Kasdan, seem perfectly placed to bring an enthralling new Han Solo story to screen. We'll see if they can do the characters and _Star Wars_ world justice when it's finally released on May 25, 2018.
Your Daily Blend of Entertainment News