7 Fast And Furious Movie Crossovers We'd Pay Big Money To See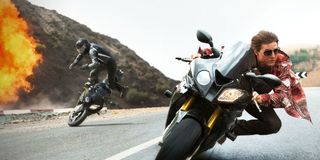 While it has certainly experienced its fair share of ups and downs over the years, the Fast and Furious franchise is back and better than ever. The Fate of the Furious debuted in theaters last weekend, and the eighth installment in the beloved blockbuster franchise has already started to break box office records. This series may have begun with humble origins, but just like its characters, it has evolved with the times and joined the big leagues.
Despite the overwhelming success of the Fast and Furious franchise, it has only just begun to scratch the surface of what a blockbuster franchise is capable of. These days, it's not enough to have a successful film series; you must also invest in world building and potential crossovers. To make sense of that concept, we have taken it upon ourselves to compile a list of franchises that seem tailor-made to cross over with the Fast and Furious franchise at some point. We understand that some of these would require serious negotiations between willing studios. Still, indulge us, and dream away! Without further ado, let's get started with Keanu Reeves' latest action vehicle: John Wick.
John Wick
The Fast and Furious universe has become an incredibly cohesive cinematic universe in recent years as various characters have slowly come together to form an impressively interconnected web of stories. However, the franchise is still missing one vital element of a proper cinematic universe: rules.
With that in mind, we think that this is a job best suited for the John Wick franchise -- which admirably designed an impressive ecosystem and economy for its titular assassin to navigate over the course of two films. Think about it, the Continental, the gold bar currency and the sense of decorum shared among the members of John Wick's criminal underworld would all fit in perfectly with the Fast and Furious world. With New York experiencing vicious pencil attacks and car avalanches in the same year, maybe these two criminal organizations will come together into something larger.
The Expendables
Although Jason Statham is now a central aspect of The Expendables franchise and the Fast and Furious franchise, there's definitely still a framework in place to bring both teams together for a mission. The Expendable films have taken the time to establish the fact that Barney Ross' (Sylvester Stallone) team is not the only ensemble of highly-trained mercenaries in the world, and the lineup of his particular roster has proven incredibly fluid over the course of three movies.
Keeping that in mind, we think it would be awesome to see Dom Toretto hire The Expendables team to provide some extra muscle on a future Fast and Furious adventure. The crossover could highlight the differences between each team's specific way of working, and similarly serve as a way to get chopper-style motorcycles into the Fast and Furious franchise for a change of pace.
The Transporter
This one is less of a crossover and more of an integration. We don't know too much about Deckard Shaw's background before showing up on the scene at the end of Fast and Furious 6, but it's clear that he's a former special forces operative with a knack for hand-to-hand combat and fast cars. That sure sounds like another famous Jason Statham character, doesn't it?
With minimal retconning and the slightest bit of smoothing out here and there, it wouldn't be all that difficult for the Fast and Furious franchise to effectively fuse The Transporter's Frank Martin with the chrome-domed Shaw brother -- perhaps Frank Martin was just a code name? Not only would it instantly help to flesh out Shaw's backstory, but it would also help us understand who this guy is, and why we should like him after the death of Han.
G.I. Joe
This one is admittedly the most absurd idea of the bunch, but the increasing ridiculousness of the Fast and Furious franchise's action set pieces makes a potential crossover with G.I. Joe more and more feasible with each passing installment. There's an enormous catalog of G.I. Joe characters to pull from (they wouldn't necessarily need to use The Rock's Roadblock), so there's any number of options and permutations for creating a badass crossover ensemble.
Besides, we've all been waiting on pins and needles for the G.I. Joe/Transformers crossover for quite some time now; if that never materializes, then bringing G.I. Joe together with the Fast and Furious franchise could be the next best thing. Snake Eyes vs. Deckard Shaw in a vicious brawl? Shut up and take my money right now, because that would be one of the greatest fights scenes ever committed to film.
xXx
This one is similar to The Expendables entry in the sense that Vin Diesel's status as a member of the xXx universe creates a certain degree of red tape that would need to be handled. That said, xXx: The Return of Xander Cage established the idea that an entirely new generation of highly-skilled xXx agents exists out in the world, and incorporating at least one of those tattooed badasses into the Fast and Furious crew seems like an excellent way to bridge two ridiculous action franchises.
We do not need to see Xander Cage enter the Fast and Furious franchise, but someone like Ruby Rose's Adele Wolff or Ice Cube's Darius Stone could easily make a welcome addition to the Fast and Furious world. Beyond that, doesn't it just seem like Samuel L. Jackson's Augustus Gibbons would be great friends with Kurt Russell's Mr. Nobody?
Mission: Impossible
Out of all the entries on this list, a fusion of Mission: Impossible with Fast and Furious seems the most feasible because these franchises share so much of the same DNA. Both are ensemble-oriented action movies that often rely on elaborate heists, and both are often framed around action set pieces that defy the laws of physics and gravity.
In that regard, it doesn't seem too outside the realm of possibility that Mr. Nobody somehow has connections with the folks at IMF, which could subsequently see Ethan Hunt's team of highly trained agents team up with (or face off against) Dominic Toretto and his crew of street smart badasses. It would be a stunt-filled orgy of action machismo and pure, unadulterated one-upmanship between two action franchises that have consistently managed to up the stakes and produce remarkable moments over the course of the last few years.
James Bond
Finally, and perhaps most obviously, we come to the mother of all action franchises: the James Bond series. It makes sense, as Fast and Furious has slowly inched into Bond's territory in recent years anyway. Although the Daniel Craig era of Bond films have admittedly toned down their goofiness from the Pierce Brosnan years, Spectre showed a clear willingness to return to the sort of camp that the Fast and Furious has aggressively embraced in recent years.
If 007 and his espionage antics continue to get campier in the near future, then it would not be too outlandish to see everyone's favorite British secret agent cross paths with Dom Toretto and his crew. Besides, who wouldn't want to see Bond's Aston Martin DB5 take part in a high-stakes drag race against one of the members of Dom's crew at some point?
What franchises do you think can cross over with the Fast and Furious series? Give us your take on the matter in the comments section below! The Fate of the Furious is currently in theaters, so make sure to check it out!
Your Daily Blend of Entertainment News
Originally from Connecticut, Conner grew up in San Diego and graduated from Chapman University in 2014. He now lives in Los Angeles working in and around the entertainment industry and can mostly be found binging horror movies and chugging coffee.
Your Daily Blend of Entertainment News
Thank you for signing up to CinemaBlend. You will receive a verification email shortly.
There was a problem. Please refresh the page and try again.