The Awesome Idea For The Heat 2 That Sandra Bullock Shot Down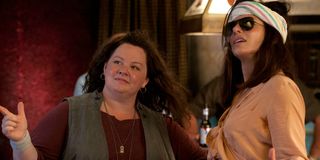 After the huge success of Bridesmaids, Paul Feig's immediate follow-up, The Heat, proved it wasn't an anomaly. Made for just $43 million, The Heat went on to gross $229.9 million at the box office, and even provoked some chatter about a sequel. Sadly, The Heat 2 never actually materialized, and it turns out that we have Sandra Bullock to blame. That's because Paul Feig has now admitted that Katie Dippold actually wrote a follow-up for The Heat that would have been a riff on The Silence Of The Lambs, but the Academy Award winning actress decided to turn it down. Paul Feig recently admitted,
Paul Feig made this admission at The Tribeca Film Festival on Tuesday night, where he was interviewed by Michael Che. I was lucky enough to be in the crowd for their wide-ranging discussion, which saw the Bridesmaids and Ghostbusters director quizzed about the various stages of his career. In the final stages of the Tribeca Talks event, Michael Che opened up the floor to questions from those in attendance, which is when Paul Feig was asked why he has never actually done a sequel to any of his films.
The Heat actually has all the ingredients for a sequel. Not only did it gross a healthy amount at the box office, especially when you consider its budget, but it also perfectly set-up the dynamic between Sandra Bullock and Melissa McCarthy - leaving plenty more story left to tell. Bullock and McCarthy had wonderful chemistry in the comedy, and by the end of The Heat, after an admittedly rocky start, they actually gather so much momentum that you wanted to see even more from them.
Shortly after The Heat's release, Paul Feig announced that a sequel was in the pipeline. However in October 2013 Sandra Bullock revealed that she wouldn't be returning for the potential film, which then led to some rumors that a spin-off that revolved around Jamie Denbo and Jessica Chaffin's characters would be explored. This ultimately proved to be nothing more than speculation, though. But considering just how perfect a Paul Feig take on The Silence Of The Lambs would be, we can only hope that he finds a way to actually get the project off the ground, even if Sandra Bullock can't be convinced to return.
Your Daily Blend of Entertainment News