Little Women Is Getting Another Movie, Here's What We Know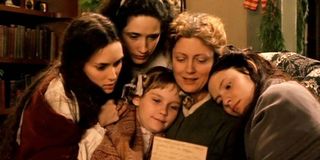 Lea Thompson has signed up to appear in a modern retelling of Louisa May Alcott's classic novel Little Women, while it has also been confirmed that she will reteam with her Switched at Birth co-star Lucas Grabeel. Lea Thompson is on board to take the role of the family matriarch Marmee, while Lucas Grabeel will play Laurie. The plan is to get the latest version of Little Women into cinemas at some point in 2018 so that it coincides the 150th anniversary of the classic novel's release.
This new, independent version of Little Women has been co-written and will ultimately be directed by Clare Niederpruem, who worked on the adaptation with her writing partner Kristi Shimek. Deadline has also confirmed that Paulist Productions and Main Dog Productions are the two parties that have come together to co-produce and co-finance the film. Clearly they think that Clare Niederpruem's script and vision for Little Women is in tip-top shape because principal photography is due to begin in Utah in June, which, for those of you without a calendar, is only a couple of weeks away.
Little Women revolves around Marmee and her four daughters Meg, Jo, Beth and Amy. Marmee helps to guide her daughters through the heartbreaks and struggles of their adolescence and then into adulthood. Originally written by Louisa May Alcott, Little Women was published in two volumes in 1868 and 1869, and it was loosely based on the author and her relationship with her three sisters. A huge critical and commercial success upon its release, Little Women's legacy has endured for close to 150 years, leading to two cinematic adaptations during the silent era, while there have been four more versions with sound.
Each film has featured some very heavy hitters, too. The 1933 version was directed by George Cukor and starred Katherine Hepburn, while 1949's featured Elizabeth Taylor, Janet Leigh and Peter Lawford, and was directed by Mervyn LeRoy. But it is the 1994 version that has proven to be the most beloved. Winona Ryder, Kirsten Dunst, Claire Danes and Trini Alvarado played Jo, Amy, Beth, and Meg, respectively, Susan Sarandon portrayed Mamee, and the film proved to be a huge success, grossing $50 million over Christmas 1994, and it still has a 90% score on Rotten Tomatoes. It even received three Academy Award nominations.
Obviously the success of Little Women means that there's quite a bit of pressure on Clare Niederpruem and her team to at least match its predecessor, which is why it will be of the upmost importance for the director to find the perfect posse of young female leads to play the roles of Meg, Job, Beth and Amy. Stay tuned to CinemaBlend for news regarding Little Women's casting, which should come quite thick and fast considering that production is due to begin in less than a month's time. In the meantime, you can check out CinemaBlend'sfull 2017 movie schedule to find your next trip to the theater.
Your Daily Blend of Entertainment News
Thank you for signing up to CinemaBlend. You will receive a verification email shortly.
There was a problem. Please refresh the page and try again.