How It Feels To Go From A Victoria's Secret Model To A Slayer In Wonder Woman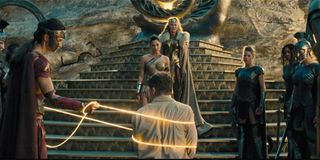 While Gal Gadot might be playing the titular Wonder Woman the blockbuster is packed full of capable ladies, from the film's director Patty Jenkins, to a roster of actresses that include Robin Wright, Connie Nielsen, and Elena Anaya. But arguably the Wonder Woman actress with the most impressive CV is Doutzen Kroes, as she is not only a Dutch supermodel who has worked as a Victoria's Secret Angel, but she is a trained equestrian, too. These skills make her the perfect addition to the Wonder Woman cast. But it wasn't all plain sailing for Doutzen Kroes, who has now admitted that it was quite challenging to go from modeling to performing some of her stunts, even though they were a lot of fun to do. Doutzen Kroes explained,
Doutzen Kroes opened up about her experiences shooting Wonder Woman to EW, insisting that she had a tremendous time shooting her action sequences on a southern Italian beach. One particular scene saw her ride on horseback, dressed head to toe in full Amazonian garments, and then pretend to slit the throat of her male foe. All of which sounds particularly delightful, as well as incredibly challenging, too.
However, Doutzen Kroes has long proven that even the most complicated of endeavors is well within her grasp, which is exactly what made her such a perfect choice to portray the Amazonian warrior Venelia, who is the right hand to Connie Nielsen's Queen Hippolyta. Patty Jenkins looked far and wide for her eclectic line-up of Amazonia warriors. As well as Doutzen Kroes, Wonder Woman includes an Olympic bobsledder, a professional fighter, an American Crossfit champion, a police officer, the former Miss Greece, and a heptathlete, too.
After being picked to star in Wonder Woman, all of these women were then taken all the way to London so that they could undergo weeks of training. This includes hour after hour after hour of perfecting stunt choreography, horseback riding, and practicing swordplay. The ultimate goal of those overseeing this rigorous schedule was, according to Madeleine Vall Beijner, to make each of them "look like the female version of 300." Most of these women insisted that it was actually quite easy to tap into the warrior inside them, and you can get a sneaky peek at some of them doing just that by watching the trailer for Wonder Woman, below.
Wonder Woman will be in cinemas starting on June 2, while you can get a crash course in the film by taking a look at what we know here. Or, if you fancy seeing something else, you can check out CinemaBlend's full 2017 movie schedule, too.
Photo courtesy of the actress' Instagram.