Thor: Ragnarok Has Cast A Comic Book Voice Veteran As Its Surtur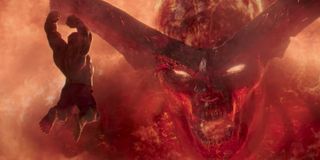 We have known about the presence of the villainous Surtur in Thor: Ragnarok for quite some time. The rumors received a confirmation when the character was revealed in an upcoming merchandise announcement for Taika Waititi's highly anticipated threequel, and we got our first glimpse at his demonic visage in the final moments of the most recent trailer. However, just when we thought it couldn't get any better, CinemaBlend was in the crowd for Marvel's San Diego Comic-Con panel when the studio revealed that legendary character actor Clancy Brown would portray Surtur in Thor's (Chris Hemsworth) upcoming adventure.
Even if you don't know who Clancy Brown is by name, you have almost certainly seen his work over the years. With credits on films like The Shawshank Redemption, Starship Troopers, and Highlander, he has established himself as one of Hollywood's most prolific supporting actors. Beyond that, he has ample experience in the voiceover world -- lending his chops to DC and Marvel properties like Young Justice, Justice League Unlimited, and Ultimate Spider-Man, as well as SpongeBob SquarePants as the miserly Mr. Krabs. The guy knows how to enter established universes (especially comic book universes), and his voice acting skills are pretty much peerless.
Oddly enough, this is Clancy Brown's second foray into the Marvel Cinematic Universe. The Shawshank Redemption actor also appeared in Season 2 of Daredevil as The Blacksmith -- thus giving him the distinction of portraying two excellent Marvel baddies within two years. It's a big jump to go from one of Marvel's most grounded villains to one of its most outlandish, but all eyes are on Brown to nail both sides of the spectrum.
Bringing Surtur into the Marvel Cinematic Universe may even serve as a litmus test for how over-the-top a Marvel movie can truly become. He's not a mere henchman or alien from another planet. Surtur (a.k.a Surtur the Fire Giant) is an extradimensional being who stands over one thousand feet tall, he can manipulate cosmic energy, and he has the physical strength to rival that of practically any other Marvel character. Thor and Hulk (Mark Ruffalo) fight some of Marvel's biggest bad guys, but they have never seen anything quite like this guy.
Despite our excitement for Clancy Brown's involvement in the upcoming Thor film, it's worth mentioning that we still have no idea how Surtur will factor into the story. The expertly edited trailers for Thor: Ragnarok have thus far done a commendable job of teasing a distinct tone and style without allowing audiences to figure out how the plot of the film will play out. The demonic monster from Muspelheim is one of Thor's biggest (literally) foes, but we will have to wait and see how he fits into Ragnarok's narrative alongside bad guys like Hela (Cate Blanchett) and tricksters like Loki (Tom Hiddleston).
Thor Odinson will battle The Grandmaster (Jeff Goldblum), Hela, Skurge (Karl Urban), Surtur, and all of the rest when Thor: Ragnarok debuts in theaters later this year on November 3, 2017. Let us know what you think of Clancy Brown's Ragnarok casting in the comments below!
Your Daily Blend of Entertainment News
Originally from Connecticut, Conner grew up in San Diego and graduated from Chapman University in 2014. He now lives in Los Angeles working in and around the entertainment industry and can mostly be found binging horror movies and chugging coffee.
Your Daily Blend of Entertainment News
Thank you for signing up to CinemaBlend. You will receive a verification email shortly.
There was a problem. Please refresh the page and try again.