One Thing The Conjuring Films Need To Do Better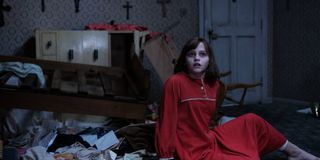 The Conjuring franchise has started something almost unheard of in the realm of horror movies. With each passing installment, the series continues to deliver fantastic thrills and branch out in entirely new directions and settings. Even with the upcoming release of Annabelle: Creation this weekend, it looks like James Wan's Conjuring landscape has become one of the most promising cinematic universes in existence. Having said that, for everything The Conjuring films (and the spinoffs) do well, the franchise will eventually need to move beyond its possession/haunted house premise if it wants to stay fresh.
Four movies in, and The Conjuring flicks have proven that they do one particular thing very well: they tell stories about families struggling with an otherworldly presence in their homes. Between both Conjuring films, and both Annabelle movies, this franchise has predicated itself on that simple premise and explored almost every possible angle within that framework. It is still working, but it won't work forever, and the creative forces behind the franchise need to anticipate audience burnout.
So what's the plan if audiences get tired of The Conjuring's particular brand of horror? There are myriad directions that James Wan and his future directors could potentially take this series, and one of the most intriguing is to embrace an idea that John Carpenter tried to establish with the Halloween franchise back in the 1980s. Although Halloween has become known as one of the film industry's best slasher series, the initial intention was to move beyond Michael Myers as a central character and explore new sub genres within the greater umbrella of horror -- which is precisely what happened with the (often underrated) Halloween III: Season of the Witch.
We don't want The Conjuring to go full anthology with its stories, as the concept of a shared universe is too useful to let go of, but we like the idea of The Conjuring films using this approach to move beyond the simple "haunted house" premise. Under The Conjuring banner, we could see an entirely new wave of horror movies that run the gamut, ranging from paranormal to werewolves to even the slasher genre.
From there, The Conjuring could even start to incorporate brand new monsters that have been established in other franchises, such as Lights Out's Diana. While she's certainly a demonic presence in her own right, she follows an entirely different set of rules than anything see in the other Conjuring films, and a movie focusing on a wholly unique monster with a single set of rules could increase the longevity of this universe by a substantial margin.
The Conjuring franchise has already shown us glimpses of what it's capable of in this regard, particularly in the realm of slasher movies. In fact, as much as the film has become known as an outlier in the franchise, the opening scene of 2014's Annabelle perfectly showcased how the series could depict a more realistic form of terror by showing us a Helter Skelter-esque murder in 1960s Los Angeles. A new Conjuring film doesn't need to follow that format verbatim, but a solo spinoff film centering on a more grounded and "real" form of horror could make for a nice change of pace in between the more traditional "haunting" installments in Ed and Lorraine Warren's main Conjuring franchise.
Credit where credit is due, the folks working on The Conjuring franchise seem to have figured this out and are subsequently taking steps to improve upon it. In fact, James Wan recently spoke to EW and admitted that he has plans to flesh out new installments in The Conjuring universe by giving them unique styles and genre sensibilities. Not too much is currently known about how he intends to enact those changes over the course of the next few movies, but he did reveal that he plans to make The Crooked Man solo movie stand out by highlighting the titular monster's roots in British folklore, thus giving it a much stronger fairy tale atmosphere. If that angle proves successful, then we could potentially look forward to a wildly eclectic slate of Conjuring films for years to come.
For now, it looks the like paranormal/haunted house angle is working very well for The Conjuring universe, but we cannot wait to see how it will develop and evolve as it moves into the future. Make sure to check out the latest installment in this ever-growing horror world when David F. Sandberg's Annabelle: Creation debuts in theaters this weekend on August 11.
This poll is no longer available.
Originally from Connecticut, Conner grew up in San Diego and graduated from Chapman University in 2014. He now lives in Los Angeles working in and around the entertainment industry and can mostly be found binging horror movies and chugging coffee.
Your Daily Blend of Entertainment News
Thank you for signing up to CinemaBlend. You will receive a verification email shortly.
There was a problem. Please refresh the page and try again.