How Batman Is Changing In Justice League, According To Ben Affleck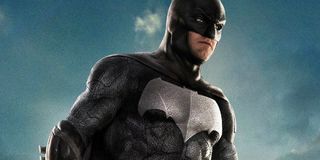 Though Ben Affleck's Batman has fans among comic book readers and casual moviegoers, it's no secret that Batman V Superman: Dawn of Justice substantially changed the hero. The circumstances of the film (and the fallout from Man of Steel) messed with the character's psyche and altered him from the conventional Caped Crusader seen in most comics and graphic novels. However, The Dark Knight seems to have leveled out over the course of the last year, and Ben Affleck has assured fans that Justice League will give us a more "traditional" depiction of Gotham's vigilante, saying:
To call the version of Batman seen in Dawn of Justice an extremist would be an understatement. Not only was he willing to brand thugs with a white-hot, bat-shaped iron, but he also killed several criminals over the course of the film's story. However, witnessing Superman's selfless sacrifice at the hands of Doomsday caused something to change in his mind, and Justice League will calm him down in a way that brings him closer to the comic book version of the character. He's still a darker and more extreme anti-hero than League members like The Flash or Wonder Woman, but in a manner that comic book purists can recognize.
We have already seen hints of this transformation since Batman V Superman premiered in March 2016. Though its successor debuted to a weaker critical reception, it's hard to deny that Suicide Squad presented audiences with a Batman that felt more in-line with the comics. The Caped Crusader saved the lives of every criminal he hunted (even Harley Quinn and Joker), and he took a softer approach to Deadshot when he encountered the expert marksman in front of his daughter. Even though he hasn't headlined a movie yet, there's an arc playing out in the background of the DCEU for Batman, and Justice League will represent the culmination of that arc. Beyond that, it will help serve as a jumping off point to give us a different type of Batman (one who can work alongside The Bat Family) when upcoming DC projects like Joss Whedon's Batgirl and Chris McKay's Nightwing (not to mention Matt Reeves' solo Batman movie) finally hit theaters.
Ben Affleck's description of Batman's evolution to EW seems to line up with all of the rumors that we have heard about Justice League following Zack Snyder's departure from the project. Most reports associated with Joss Whedon's extensive (and reportedly expensive) reshoots have hinted that Justice League is aiming for a lighter tone than the original incarnation of the film, and brightening up a character like Batman can go a long way towards establishing that particular tone. With only three months left until the movie finally hits the big screen, I'm more excited than ever.
Ben Affleck's more traditional version of The Caped Crusader will make his next appearance on the silver screen when Justice League debuts in theaters on November 17, 2017. Let us know what you think of this direction for the character in the comments below!
Originally from Connecticut, Conner grew up in San Diego and graduated from Chapman University in 2014. He now lives in Los Angeles working in and around the entertainment industry and can mostly be found binging horror movies and chugging coffee.