Why The Friday The 13th Reboot Got Cancelled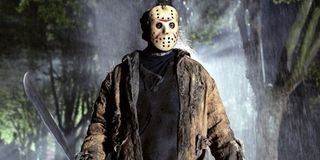 In the 1980s, Friday the 13th was a franchise juggernaut, rapidly releasing eight films in under a decade. While additional sequels and even a crossover with the Nightmare on Elm Street franchise eventually followed, growth for the franchise slowed to a crawl with the 2009 Platinum Dunes reboot being the series' most recent chapter. Although a new Friday the 13th film was in the planning stages at Paramount Pictures, formerly-attached screenwriter Nick Antosca reveals that several factors may have contributed to the studio abandoning the project, including plans that would have had Jason Voorhees back in the 1980s. According to Antosca:
Speaking with Bloody Disgusting, Nick Antosca reveals all sorts of cool details about the Friday that will never be. Scripting alongside David Bruckner, Antosca teased that this reboot would have been a throwback to the 1980 original, returning to Camp Crystal Lake with an ensemble of Jason victims inspired by films like Richard Linklater's Dazed and Confused and Amy Heckerling's Fast Times and Ridgemont High, among others. What's more, an immediate sequel was going to shift the season by six months, giving audiences a chance to see the summer camp serial slasher in the winter.
Nick Antosca is definitely right when he says that it shouldn't be hard to make a Friday the 13th movie, but there is, perhaps, some added pressure given that the next film will be the franchise's 13th entry. With Paramount having failed to begin production, however, it sounds like it will now be Warner Bros. Pictures that next delivers Jason Voorhees to audiences. In exchange for letting WB co-produce Christopher Nolan's Interstellar, Paramount was given full control over both a new Friday the 13th movie, as well as a potential South Park movie sequel for the next five years. That was more than four years ago, and with neither feature showing any sign of moving forward, Paramount appears to have missed its opportunity.
While Warner Bros. has not yet indicated any plans to develop a new Friday the 13th movie on its own, a sequel with a period setting would fit perfectly with the studio's recent horror successes. The Conjuring franchise has branched out into sequels and spinoffs, with every entry set in a distinctly different era. Fans are meanwhile anxiously awaiting the arrival of director Andy Muschietti's Stephen King adaptation, IT, which itself moves the action to the 1980s. With sizable box office returns already being anticipated for the September 8 release, IT could easily pave the way for a Friday the 13th throwback.
You can be sure that if/when a new Friday the 13th movie is announced, we'll let you know.
Your Daily Blend of Entertainment News