Doctor Dressed As The Joker Delivers Woman's Baby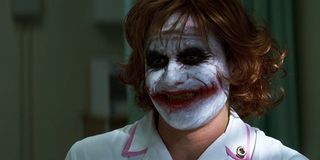 No matter where you work, there's a good chance that your place of business allows people to wear a costume when Halloween rolls around. A lot of people have fun with it, and for every three-hole punch version of Jim Halpert that you see walking around the office, there's likely going to be someone who goes all out. That is precisely what happened at a Tennessee hospital last week, as an obstetrician dressed as The Joker apparently gave birth to a child on Halloween Day. The story is weird, but the circumstances make sense.
The bizarre birth took place when Brittany Selph unexpectedly went into labor on Halloween. The mom (now a mother of three) told HuffPost that she had not expected to give birth until November 5, so her doctor simply wore a Joker costume to work not expecting to deliver a baby that day. However, Selph's baby did come, although she ended up being perfectly fine with a Joker-themed delivery. While Brittany and her husband Justin Selph waited at the hospital while she was in the early stages of labor, Dr. Paul Locus took a break and went home to pass out some candy. Much to the couples' delight, he later returned in full clown regalia to bring her baby into the world.
Brittany Selph was cool with the Joker costume (in fact, she said the humor of the whole situation actually helped her through it), but you have to imagine that the baby was at least a little freaked out. You don't have to be an expert on comic books to instinctively know that a guy who looks like The Joker is bad news.
Clearly willing to have some fun with the whole situation, Brittany's husband Justin posted a live stream of a checkup earlier in the day to show what it was like to see The Clown Prince of Crime looking after his pregnant wife. Check out the video below to see for yourself.
Of course, most eagle-eyed fans already know exactly which version of The Joker that Dr. Paul Locus dressed up as during the unexpected, comic-book-inspired labor: Heath Ledger. The incarnation of The Joker that debuted in Christopher Nolan's The Dark Knight has arguably remained a mainstay in the Halloween world for the last decade, but we would be willing to bet this was a first for someone dressed in a Heath Ledger Joker costume. Let's just consider ourselves lucky that things ended much more peacefully (a.k.a much less explosively) than the last time we saw the Heath Ledger's Joker walk through the halls of a hospital.
On the silver screen, the DC world will continue to expand when Justice League premieres in theaters later this month on November 17. Here's everything that we currently know about the next major DCEU film, and you can also make sure to pick up your Justice League tickets now!
Your Daily Blend of Entertainment News
Originally from Connecticut, Conner grew up in San Diego and graduated from Chapman University in 2014. He now lives in Los Angeles working in and around the entertainment industry and can mostly be found binging horror movies and chugging coffee.