Watch Karen Gillan Dress Up As The Pink Power Ranger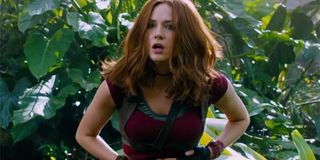 There's nothing quite as exciting as when fandoms collide. This week, Avengers: Infinity War actress Karen Gillan donned the original costume of the Pink Power Ranger and then she danced around, using moves she also employed in Jumanji: Welcome to the Jungle. There's so much fan love going on here, I can't even handle it. You can check out Karen Gillan trying out some cosplay, below.
There's not much to say here other than Karen Gillan clearly used her time learning dance-off skills for Jumanji: Welcome to the Jungle wisely. I detect some Ruby Roundhouse in those kicks and punches, for sure. Minor spoilers for the new Jumanji movie - If you haven't caught the flick yet, the teenage version of Karen Gillan's character is non-athletic and a rule follow but her video game counterpart is highly skilled at "dance fighting" which basically looks like what is happening in the video above.
Karen Gillan isn't even the first Marvel actress to get super pumped about a Pink Power Ranger costume. At Comic-Con in 2017, Lupita Nyong'o used the costume as a means to run around the con and enjoy herself without people recognizing her and (likely) mobbing her. The Black Panther actress seemed to have a ball going incognito, and Karen Gillan also looks like she is having a ball, even if she's hanging out with herself and not at a gigantic event.
The Power Rangers have always had a fanbase, but the franchise's popularity was revitalized in 2017, thanks to a brand new movie that introduced the characters to a whole new generation. Of course, the Pink Ranger got a whole new costume for the 2017 movie. Kids everywhere might identify with that look, but Karen Gillan is 30 years old, which means she grew up right when the early nineties OG Mighty Morphin Power Rangers were still doing cool shit on TV. That's the costume she should and does seem to identify with.
As I said prior, Karen Gillan has been in a couple of huge franchises this past year. She appeared in Guardians of the Galaxy Vol. 2 and Jumanji: Welcome to the Jungle in the latter half of 2017. This year will see her in The Avengers: Infinity War and All Creatures Here Below. For now, though, you can still catch Jumanji: Welcome to the Jungle in theaters, or if you are feeling a little Power Rangers nostalgia, the newer movie is available on Blu-ray, DVD and Digital. Finally, more Karen Gillan antics such as the one above can be found over on Twitter.
Reality TV fan with a pinch of Disney fairy dust thrown in. Theme park junkie. If you've created a rom-com I've probably watched it.
Your Daily Blend of Entertainment News
Thank you for signing up to CinemaBlend. You will receive a verification email shortly.
There was a problem. Please refresh the page and try again.