Are The Transformers Movies Being Rebooted After Bumblebee?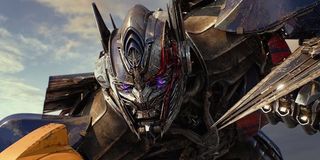 The Transformers were already a valued intellectual property for several decades before the first live action movie was released in 2007, but there's no question that the film series boosted the robots in disguise's popularity even higher. As of last June, there are five movies that in the series, and the sixth entry will be the Bumblebee spinoff, arriving in theaters this December. However, word has come in that after the yellow Autobot's prequel adventure has been released, Paramount Pictures intends to reboot the entire franchise.
Currently Transformers 6 is scheduled to come out on June 28, 2019, and back in 2015, a writers room was assembled to come up with sequels, prequels and spinoffs that would turn the Transformers film series into a full-blown cinematic universe. However, TFW 2005 heard from Hasbro, the company that's been making Transformers toys since the beginning, at the Toy Fair 2018 Hasbro Investor Preview that Paramount is bringing in a new team to "reset" the Transformers film franchise after Bumblebee is released. While an update like this is worth taking with a grain of salt, it's also worth mentioning that Transformers 6 has been removed from Hasbro-Paramount's slate of upcoming movies. It was also reported that as part of its new agreement with Paramount, Hasbro will supposedly have greater control over these movies, including which ones are greenlit.
Warning: SPOILERS for Transformers: The Last Knight are ahead!
Given that Transformers: The Last Knight ended with Optimus Prime sending out a message into the universe for all surviving Autobots to return to help rebuild Cybertron and a disguised Quintessa informing a group of scientists how to destroy Unicorn (which is actually Earth), one could logically surmise that Paramount intended to release at least one more main Transformers installment. However, assuming this new information is correct, it sounds like the series will instead end on a cliffhanger, and once the 1987-set Bumblebee has been released, Paramount has Hasbro will pack up shop and start from scratch. Director Michael Bay left the Transformers world behind after helming The Last Knight, and with Bumblebee being a relatively self-contained story, it's possible the companies feel like now is the time for a new beginning.
We also can't rule out that Paramount and Hasbro want the rebooted Transformers to be part of the Hasbro Cinematic Universe. Currently there are four other Hasbro-Paramount movies confirmed to be on the way: G.I. Joe (a reboot), Micronauts, Dungeons & Dragons and the untitled Paramount/Hasbro event film. While I suspect Dungeons & Dragons will stand on its own, it's already been confirmed that the goal is for G.I. Joe and Micronauts to inhabit the same world. Transformers is obviously one of Hasbro's most popular toy lines, so if this particular franchise plan is moving forward, it's not a shocker to think that the company wants the gigantic robots involved, potentially interacting with G.I. Joe and Micronauts in that event film.
Stay tuned to CinemaBlend for more updates regarding the Transformers franchise. Bumblebee rolls out into theaters on December 21.
Connoisseur of Marvel, DC, Star Wars, John Wick, MonsterVerse and Doctor Who lore. He's aware he looks like Harry Potter and Clark Kent.
Your Daily Blend of Entertainment News
Thank you for signing up to CinemaBlend. You will receive a verification email shortly.
There was a problem. Please refresh the page and try again.