Jennifer Lawrence Has Some Blunt Thoughts About Academy Award Nominee Phantom Thread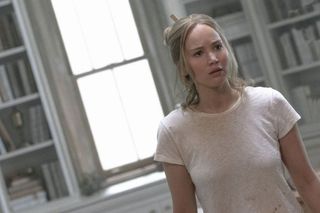 Jennifer Lawrence just so happens to be one of the most open and opinionated people in Hollywood, and she recently opened up about her feelings related to P.T. Anderson's Academy Award-nominated movie Phantom Thread. However, if you were expecting to hear some positives, this isn't the article for you. In fact, Jennifer Lawrence had so much trouble watching the film she said she shut it off quickly. Specifically, she told Marc Maron on WTF:
Three minutes is not a long time to really give a movie a shot, but Phantom Thread is a period movie, and it's a romance. Plus, it also overwhelmingly features a lot of close-up shots of clothing and insights into the clothing industry, which is not everyone's cup of tea, or clearly interesting to everyone. For some people, I can see how the deft and often weird movie might not be their cup of tea. While speaking with Marc Maron on his WTF podcast, Jennifer Lawrence revealed she got three minutes in before she gave up. But hey, that's only about 1/20th of the time I gave mother! before doing the same thing.
While three minutes is not a long time to give a movie a chance, Jennifer Lawrence does go into detail about why she didn't like the movie enough to keep watching. The reason she bailed had to do both with subject matter and a general confusion over wtf (reference intended) the movie was supposed to be about. She also elaborated, noting,
It's probably not the best strategy to knock on a director's work if you want to ever work with that person, but Jennifer Lawrence is one of the biggest actresses in the business and can pretty well pick and choose her projects. If her comments are any indication, she wouldn't be particularly excited about working with P.T. Anderson, anyway. At least not in any film that had Daniel Day-Lewis repeatedly mulling over clothes.
In general, directors often take chances on movies, and aren't always positive about how they will be received, anyway. As for Phantom Thread, the movie has earned some awards nods, but it was always a bit of a niche movie anyway. So far the flick has made a little over $33 million worldwide, with $19 million of that coming in domestically. We'll have to wait and see how it fares following this weekend, as the Academy is set to announce the winners of this year's prestigious movie award this weekend. The Oscars air on Sunday, March 4 at 8 p.m ET. If Jennifer Lawrence is there or watching, we certainly know what she won't be rooting for.
Amazing Race & Top Chef superfan with a pinch of Disney fairy dust thrown in. Theme park junkie. If you've created a rom-com I've probably watched it.
Your Daily Blend of Entertainment News
Thank you for signing up to CinemaBlend. You will receive a verification email shortly.
There was a problem. Please refresh the page and try again.