Jennifer Lawrence's Blunt Feelings About Her Nude Photo Hacking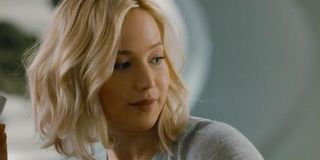 Stories about alleged sexual misconduct in Hollywood are prevalent right now, but one sex crime reporters sometimes neglect to label as such is the act of hacking celebrities' private photo collections to find and leak nude pictures to the Internet. Academy Award-winning actress Jennifer Lawrence recently revealed how she felt when she became the target of such a crime in 2014. During the incident, hackers stole nude photos Lawrence had taken to give to her boyfriend. Then the hackers uploaded photos one-by-one to the Internet. Lawrence explained,
Jennifer Lawrence shared the sentiment with the Hollywood Reporter's "Awards Chatter" podcast. She said processing the incident took strength, but there were certainly moments of vulnerability. Lawrence noted people would praise her as a role model for young girls, but then she would think about the stolen nude photos, and she would need to rush out of the room to cry because she felt like she was an imposter. Lawrence could not understand how anyone could call her a role model for a while after the incident.
The Silver Linings Playbook Oscar winner did not specify why she felt so upset, but it is easy to imagine reasons. Perhaps Jennifer Lawrence had apprehension because the stolen nude photos were in the open. Maybe she felt exposed and powerless against society's impossible criteria for decorum that sometimes makes us feel like the naked body is shameful or wrong. Perhaps Lawrence disliked the implications behind the existence of the nude photos, as she had taken them to give to a boyfriend (before she began dating Darren Aronofsky). But the reason never mattered. Jennifer Lawrence had every right to be angry. She said it took a while to figure out where to aim her fury, but she decided not to sue and instead focus on healing. And in saying that, Jennifer Lawrence revealed why she remained a role model even after nude photos of her leaked online.
When news of the hacking surfaced, Jennifer Lawrence urged reporters to stop reporting the story as a scandal and instead call it a sex crime. Around that time, other celebrities like Kirsten Dunst, Amanda Seyfried, and Kate Upton became targets of hackers who infiltrated their photo collections, stole nude pictures, and put them online. In fact, a year or so prior, a hacker named Christopher Cheney went to prison for ten years for hacking into the private photos of celebrity women and leaking nude photos of stars like Christina Aguilera, Scarlett Johannson, and Mila Kunis.
But the epidemic is not over. Photo hackings still occur frequently. This year alone, someone stole photos of Emma Watson trying on costumes for a film and tried to blackmail her with them. Her spokesperson later condemned the crime. Then someone hacked into Selena Gomez's Instagram account and posted stolen nude photos of Justin Bieber. Selena Gomez was the person with the most Instagram followers at the time, and the images of Bieber were pictures that had previously leaked; for these reasons, news outlets indicated the crime was about power and control.
Jennifer Lawrence has always been right to say the incident was not a scandal but a sex crime. The shame should be on hackers who steal photos and post them and on people who buy such images or look them up. Secondly, Lawrence sounds like she is still processing what happened, but she indeed has come a long way. Here's hoping the healing continues.
Your Daily Blend of Entertainment News
Thank you for signing up to CinemaBlend. You will receive a verification email shortly.
There was a problem. Please refresh the page and try again.