Ant-Man And The Wasp Is Not A Romantic Comedy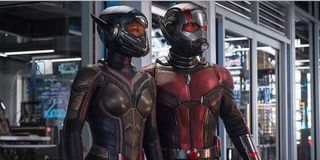 Because Ant-Man and the Wasp is the Marvel movie following Avengers: Infinity War, it's actually a movie we haven't heard a ton about. The focus has been on both Black Panther and The Avengers over the past few months, but now that we are getting closer to Ant-Man and the Wasp's release date, we are learning a bit more about the movie. In a recent magazine profile Ant-Man and the Wasp director Peyton Reed revealed that the movie will not be a romantic comedy, as previous reports suggested. He said:
So, the gist here is that Hope Van Dyne and Scott Lang's connection to one another will be explored, especially as Hope comes into her own with her own suit and powers. I'm also assuming, due to the general tone of the first Ant-Man flick, that we can expect Ant-Man and The Wasp to be an amusing movie, as well. However, it won't be a rom-com, and Peyton Reed told Empire Magazine that we should not expect the girl-meets-guy beats that come with most romantic comedies.
In fact, he also went a little further to clarify and explain that really Hope Van Dyne and her journey to becoming The Wasp are at the heart of this film. So, if you were expecting this to be another Ant-Man-focused film, you may be a little disappointed. He said:
Previously, a report came out indicating that Ant-Man and the Wasp was being considered to be a rom-com, after Elena Brodskaya, a foreign marketing VP for Disney, called it that at a Russian International Film event. Considering all of the action that is involved in Marvel films, and also just the sheer amount of information we have about Ant-Man and the Wasp following the release of the first trailer for the movie, it makes sense that this wouldn't be a straight up rom-com. The trailer itself focuses a ton on the powers the Wasp will have, as well as her action prowess in general. Still, those original comments focusing on a romantic component had me sold hook, line and sinker.
Marvel movies have been genre-blending quite a bit in recent years, with Logan's western bent standing out as a prime example. Marvel movies have featured romances in the past, but I don't think I would be mad if a Marvel movie were to decide to keep romance as a focal point, provided the movie was still good. I'm assuming over the next few months that Marvel will let loose another Ant-Man and the Wasp trailer, and we'll see what else the movie has in store beyond Hank Pym, Scott Lang and Hope Van Dyne going on the run.
In the meantime, Avengers: Infinity War is out -- and has a new release date -- on April 27. We'll get the full release of Ant-Man and the Wasp on July 6. Here's what all we know about the movie.
Your Daily Blend of Entertainment News
Reality TV fan with a pinch of Disney fairy dust thrown in. Theme park junkie. If you've created a rom-com I've probably watched it.