8 Awesome Movies You Need To Watch Before They Leave Netflix In August 2018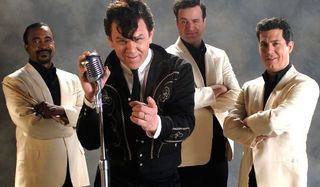 Clearing your Netflix queue is like weeding a garden: just as you think you've caught up with the game, at least two more titles pop up in need of attention. Such is the cycle of life with a streaming services such as this, and with each new month comes new weeds for your eyes to behold before they are no more. August is going to be purging some beloved movies, as well some recent and distant hits you may not have had time to check out. If you're curious as to what's in the process of walking out the door throughout this past month, check out our previous listing of departing titles. Otherwise, break out your notepads, and prepare to say goodbye to the following.
Adventures in Babysitting
With a Disney Channel remake fresh in everyone's minds, it's a shame that the original Adventures In Babysitting is making its way off of Netflix's streaming service. A classic "adventure in a night" film from the 80's, sitter Elizabeth Shue will help the kids she's watching through an evening of danger, adventure, and a pre-Marvel Cinematic Universe meeting with Thor. Trust us, it all makes sense when you watch it; and you'll see why Disney should have never messed with the babysitter in the form of a TV remake.
Finding Dory
Have you had a good cry lately? If you're in need of such a thing, Finding Dory will help you by providing some tear-purging goodness, as Ellen DeGeneres's titular character makes her way through the ocean, in hopes of finding her parents. Sure, there's tons of laughs, and even some memes that folks took from director Andrew Stanton's return to the world of some well spoken marine life, but let's not lie here: you're going to cry, as well as laugh if you watch this one. And it's worth every second of the experience... unless you're using the film as a reference material for marine biology.
Walk Hard: The Dewey Cox Story
While it may be the 10th anniversary of Step Brothers, it's as easy to focus on that monumental comedy's achievements as it is to overlook some of the quality films that came after it. Enter Walk Hard: The Dewey Cox Story, a parody of music biopics such as Ray and Walk The Line, which is centered around half of the Doback brothers, John C. Reilly. Much like the more storied film of the two, Walk Hard is a mix of musical mayhem, sight gags, and recurring jokes that all mix into one insane soft serve of a film.
St. Vincent
Some day, Bill Murray might win an Oscar, especially if he keeps returning to films like St. Vincent. Befriending a young boy who lives next door to him, Murray's Vincent teaches his young friend some important life lessons, while also learning something about life through said young friend. Boasting a cast with the likes of Naomi Watts, Melissa McCarthy, and IT's Jaeden Lieberher, you could walk in the doors of St. Vincent as a Murray fan, and find yourself in good hands all around.
Seeking a Friend for the End of the World
The apocalypse can get pretty lonely, especially if you're Steve Carell's character in Seeking a Friend for the End of the World. With the world getting ready for a massive meteor impact, and Carell's wife leaving him in the first five minutes of the film, we're shown a journey through a world that's all about shedding conventional limits as the clock winds down. And yet, all Carell and co-star Keira Knightley want is some sort of familiar normalcy before the big boom, with their quest for such a thing being heartwarming while also hilarious.
The 40-Year-Old Virgin
It's time for a Steve Carell double feature, folks! After you've seen the bittersweet vibes of Seeking a Friend for the End of the World, feel free to brighten things back up with Carell's similarly sweet The 40-Year-Old Virgin. Thankfully, the problems of protagonist Andy aren't the end of the world, though trying to lose one's virginity at 40 may seem that way. Thankfully, no meteor is around to ruin the fun, but there is a lot of awkward passing of knowledge. So, maybe that meteor could be handy after all.
Sausage Party
Ok, so you're in the mood to go off the deep end with some comedy that doesn't know any boundaries. The 40-Year-Old Virgin was just too tame, and you need something so edgy it'll shake your brainpan. Well, allow me to slap the roof on the beauty known as Sausage Party, as I sell you an animated experience you'll never forget. To ruin any of the fun for the newcomers would be a crime, but you folks that have taken this ride before know why I'm suggesting this one. If you're new, go on through. If you've been there, then you're aware.
The Road
Are you looking for less comedy and more apocalypse after watching Seeking a Friend for the End of the World? First of all, I hope everything is alright. But second, and most importantly, we have you covered if you're looking for more introspective, less silly fare. The Road is a post-apocalyptic drama about a father and son just trying to survive after the world has been leveled by an apocalypse. With Viggo Mortensen and Kodi Smit-McPhee as the father and son wandering through the ruins of America, it's a film that's truly moving, if not absolutely heartbreaking to experience.
CinemaBlend's James Bond (expert). Also versed in Large Scale Aggressors, time travel, and Guillermo del Toro. He fights for The User.
Your Daily Blend of Entertainment News
Thank you for signing up to CinemaBlend. You will receive a verification email shortly.
There was a problem. Please refresh the page and try again.