How The 9 To 5 Sequel Will Bring Dolly Parton Back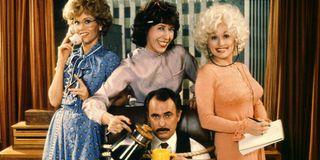 9 to 5 is a comedic classic, but that doesn't mean that plans to reboot or revive the movie haven't been around for decades. With another stab being taken at bringing the story into the modern era via an actual sequel, we've heard how Dolly Parton, along with Jane Fonda and Lily Tomlin, might come back for the new film. Apparently, the current plan is to have a new trio of wronged ladies seek out the originals for a bit of advice. According to Parton:
In case you don't know the joys of 9 to 5 (and shame on you, if that's the case), the film focuses on three women, Judy, Violet and Doralee (Fonda, Tomlin and Parton respectively), who work for a company with highly sexist and generally unfriendly business practices, and also happen to have a boss, Frank (Dabney Coleman), who firmly embraces those practices and directly sexually harasses Doralee. After becoming unlikely buds when work woes get them down and bonding over how they'd like to take care of Frank and make the company better, things take an even more hilarious turn when they find themselves kidnapping their "sexist, egotistical, lying, hypocritical bigot" of a boss and secretly running the company.
If this sounds like the kind of idea that would drive disgruntled workers to the theater in droves, you're right. 9 to 5 came out in 1980 and made almost $104 million dollars, which led to it being listed as one of the highest grossing comedies of all time. Along with giving the world Dolly Parton's catchy hit song "9 to 5" and fully launching her into broad pop culture stardom, the movie also spawned a TV show of the same name that ran for five seasons on ABC, and later in first run syndication, from 1982 through 1988. A Broadway musical, with new songs by Parton, opened in 2009 and received 15 prestigious Drama Desk Award nominations, the most for any production in a single year, and also scored four Tony nominations.
Dolly Parton also mentioned, in her interview with Entertainment Weekly, that Pat Resnick (who wrote the original film and the stage show) is working on this new film with Rashida Jones. While Jones is best known for her work as an actress on television and in movies like Parks and Recreation, Angie Tribeca and I Love You, Man, she's also worked behind the camera and wrote the film Celeste and Jesse Forever, as well as an episode of Black Mirror and the recent documentary about her father Quincy Jones, Quincy. And, it's pretty clear that these two know that getting the original 9 to 5 trio of badass ladies to join in on the fun is a good idea.
With so many reboots, remakes, revivals and the like already coming down the pike or currently on TV and in theaters, it's become pretty clear that for every audience member that enjoys reliving these stories (or enjoying them for the first time), there are dozens who would rather just watch the original and are either actively against favorites from days gone by being updated or simply don't understand why so many remakes / reimaginings / long-awaited sequels are happening now.
Of course, everyone who makes a movie or TV show is looking to get as many eyeballs on it as possible, so the idea of finding a way to bring a classic that was beloved by many back to the screen seems like the perfect way to ensure an automatic audience. And, it's clear that Pat Resnick and Rashida Jones know what they're about by starting with the idea of getting Dolly Parton, Lily Tomlin and Jane Fonda to reprise their roles from the first movie.
Part of what makes 9 to 5 so funny and memorable is not just the basic performances of the leads, but the friendship that quickly grows between the women, who are all in a bad place when it comes to their careers. The camaraderie between the three is what really makes 9 to 5 sing, and as much as I'm sure that every effort will be made, when casting the young leads for the new film, to find a new group of ladies who have the same rapport that Parton, Fonda and Tomlin did, you simply can't go wrong by adding them to the cast to bring in some of that familiar zing.
Another way that the writers and stars are hoping to have the 9 to 5 sequel connect with modern audiences is that the topics the original film covered are still relevant. Dolly Parton mentioned in her interview that the #MeToo movement now has many women standing up for themselves and their rights, especially in the workplace, so the comedy can be used, once again, to highlight important issues while still giving people a little bit of a break from bad news, something we have always needed comedies to help us with.
While I am always skeptical when folks start talking about rebooting or remaking classics, it does seem like the team working on 9 to 5 has the right idea, so I'm willing to give this a shot if it continues to develop. It's also a good sign that Dolly Parton, Lily Tomlin and Jane Fonda are willing to jump back in as long as they like the story that Pat Resnick and Rashida Jones come up with, so here's hoping that they create something as funny, weird and meaningful and the original.
The 9 to 5 sequel is still in the early stages of development, so there's no word right now on when we could see it on the big screen. But, be sure to stay tuned to CinemaBlend, and we'll let you know about any updates on the project as they become available to us.
Your Daily Blend of Entertainment News
Yennefer's apprentice, Gilmore Girl; will Vulcan nerve pinch pretty much anyone if prompted with cheese...Yes, even Jamie Fraser.