New Captain Marvel Footage Is Funny And Packs A Photon Blast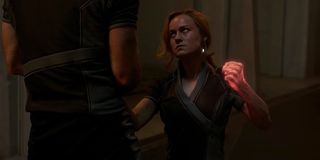 We have another stacked year of comic book movies ahead of us, and kicking things off is Captain Marvel, the penultimate movie of the Marvel Cinematic Universe's Phase 3 that's looking back to 1995 to explore Carol Danvers' origins. We've already seen two trailers and a handful of TV spots for Captain Marvel, but with the movie now two months away, marketing will be kicking up a notch, and tonight has brought even more cool and funny new footage to chew on, as you'll see below.
Sometimes it doesn't hurt to have extra insight into a movie's story ahead of time, and this latest Captain Marvel preview sheds even more light on Carol Danvers' adventure. The first part of this video has Brie Larson's Carol explaining how the Skrulls, enemies of the Kree, can shapeshift. You know, in case the back-flipping grandma from the last trailer wasn't enough indication that there's more than meets the eye with these aliens. Understandably, Nick Fury, having only just met Carol, wants proof she's not a Skrull, so she fires off a proton blast, which those green bastards can't do. But since Fury hasn't lived among the Kree on Hala, he's still skeptical of her claim, which is amusing to her and us watching the conversation.
From there, we get a deeper look into Carol Danvers' time among the Kree, specifically training as a member of Starforce under Jude Law's character (who is supposedly Mar-Vell, but the jury's still out on that). Despite not remembering her past, Carol is a formidable fighter, and as we've learned over the last year, she'll go on to become the most powerful superhero within the MCU.
The rest of this Captain Marvel preview hits a lot of the same beats as what we've seen in past trailers, from looks at Carol Danvers' past to seeing her firing off those photon blasts out in space. There's also foreshadowing of what we can expect from Nick Fury in the present day MCU when he notes that he hasn't seen anything like Carol, prompting the young Phil Coulson to ask if he can find others like her. The whole thing wraps up with Carol and Fury hilariously ripping into one another about how neither of them are as effective at being covert as they thought.
For a 90 second TV spot, this latest look at Captain Marvel did an good job of laying out the basic plot of the movie, which is to be expected when we're this close to the movie being released. With a cool blend of both Earth and cosmic action, Captain Marvel definitely seems to be packing a lot of excitement and thrills, not to mention is a necessary lead-in to Avengers: Endgame, which comes out than two months later.
Captain Marvel hits theaters on March 8, so keep checking back with CinemaBlend for continuing coverage. In the meantime, feel free to look through our MCU movies guide to learn what else this superhero franchise has in the works.
Connoisseur of Marvel, DC, Star Wars, John Wick, MonsterVerse and Doctor Who lore. He's aware he looks like Harry Potter and Clark Kent.
Your Daily Blend of Entertainment News
Thank you for signing up to CinemaBlend. You will receive a verification email shortly.
There was a problem. Please refresh the page and try again.