Keanu Reeves' Replicas Is Making Smart Use Of Rotten Tomatoes In Its Ads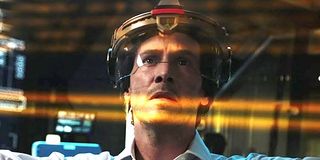 Keanu Reeves has a sci-fi movie called Replicas opening this Friday. It took years to get to theaters, and it doesn't look like it's destined for big bucks. But it may at least have found a clever marketing strategy to make lemonade out of potential lemons.
I was watching ABC or NBC Monday night and noticed an ad for Replicas. The TV spot showed the Rotten Tomatoes logo with 93% on it -- with it noted that 93% of Rotten Tomatoes users want to see the movie.
I'm not sure how common it is to market a film that way. It might just be new to me, or just the first time I really paid attention because Keanu always commands my attention. But I thought it was a pretty clever way to market this particular film.
Checking Rotten Tomatoes just now, there is still no actual Tomatometer score for Replicas yet, even though the movie is officially opening in two days on January 11. There's only one review in there right now, and it's rotten.
This movie had a long gestation. It started filming in the summer of 2016 and it's only releasing now in early 2019. It seems destined for a low RT score from critics and probably only a marginally better RT audience score. CinemaBlend's own Doug Norrie predicts Replicas will end up with a Rotten Tomatoes critics score of 28%.
So this was Replicas' one-and-only chance to use the Rotten Tomatoes brand with 93%. (It's at 92% right now, from 513 ratings, but on TV I'm pretty sure I saw it at 93. I didn't tape or rewind it, though, because it might've been while I was watching The Bachelor and that's shameful enough to live through once.)
I've seen films use regular moviegoers in ads before, showing people reacting after a screening, or tweets plugging the movie. And of course movies love to promote when their films get a very fresh Rotten Tomatoes score, and/or a high CinemaScore from polled moviegoers.
But in this case, Replicas can capture the value of the RT brand -- because yes, whatever you may personally think, it does still have value -- get the consensus value of 93%, and also get the value of that 93 percent interest being from regular moviegoers, not "The Critics."
When I lived in Wyoming, I used to work with a woman who would only go see a movie if it had a Rotten Tomatoes rating higher than about 75%. That was over a decade ago, and I have no idea if she still feels that way at a time when the divide between critics and audiences is more pronounced than ever. But I'm curious if seeing 93% -- or 92% -- interest like this would sway her. It does give the film that consensus value, and suggests it will be a big event, or something people will be talking about.
Ticket prices have gone up since that point, and some of us don't live very close to movie theaters. We all need incentive to head out to the cinema, some more than others. For me, Keanu might be enough, unless the eventual reviews are so bad I decide to just wait for the home release.
Whatever happens from here, I thought it was a smart way to find a marketing angle for a movie that otherwise looks like it's going to struggle at the box office.
Entertainment Studios bought the North American/domestic box office rights to Replicas for $4 million after a private screening at the recent Toronto Film Festival, THR reported. Deadline estimates Replicas will make $4-$7 million in its opening weekend January 11-13. Aquaman is still expected to dominate for its fourth weekend, and potentially reach $1 billion worldwide.
It doesn't look like Replicas was ever intended to be a major movie, and these days many smaller films go straight to VOD (or Netflix) without getting a theatrical release at all, so Replicas is already a step ahead of many titles. Replicas must be getting a fairly wide release if I can see it in my local theater on the New Hampshire/Maine border; that was not the case for Keanu's movie Destination Wedding with Winona Ryder, which I was particularly looking forward to seeing before I realized I'd have to travel over an hour.
In Replicas, Keanu Reeves plays neuro-scientist William Foster, who is on the verge of successfully transferring human consciousness into a computer when his family (including wife Mona, played by Alice Eve) is killed in a car crash. Desperate to resurrect his family, William recruits fellow scientist Ed Whittle (Thomas Middleditch) to help him secretly clone their bodies and create replicas. William ultimately faces a "Sophie's Choice" when it turns out that they can only bring three of the four family members back to life.
Replicas may have a quiet run, but Keanu Reeves has at least two big hits on the docket for 2019 -- John Wick: Chapter 3, opening May 17, and Toy Story 4, opening June 21. We don't know too much yet about his Toy Story voice role, but we know plenty about John Wick 3.
Obviously his career will be fine even if Replicas doesn't go too far. Keanu has spent decades in this balance of indie films and major blockbusters. For every Bill & Ted, Speed, The Matrix, or John Wick, he has a smaller film like My Own Private Idaho, Siberia, or Destination Wedding. (No one asked, but his work in I Love You To Death is truly undervalued; he and William Hurt are an unexpectedly brilliant comedic pairing.)
Keanu Reeves clearly has brand value of his own -- which is why his name and face dominate the Replicas posters -- and his presence is probably why so many RT users expressed interest in the movie. We'll see how well the movie does in its opening weekend when the numbers roll in this Sunday, but it will be hard to really quantify how much those ads specifically got people into seats.
Replicas opens in theaters this Friday, January 11. Here's what else is headed to theaters in the jam-packed 2019.
This poll is no longer available.
Gina grew up in Massachusetts and California in her own version of The Parent Trap. She went to three different middle schools, four high schools, and three universities -- including half a year in Perth, Western Australia. She currently lives in a small town in Maine, the kind Stephen King regularly sets terrible things in, so this may be the last you hear from her.
Your Daily Blend of Entertainment News
Thank you for signing up to CinemaBlend. You will receive a verification email shortly.
There was a problem. Please refresh the page and try again.